Why We Should Choose
Strapless Bra?
For any special occasion dresses or clothing that will show your bra straps, you need a strapless bra. Push aside the fear that gravity will prevent it from staying in place — the right strapless option will stay put and prevent boob spillage.However,many girls think that wearing strapless bra requires a special occasion, such as a wedding or a party, and must match with a wedding dress or various dress skirts.But is this idea really correct?
Why not choose Adhesive bra?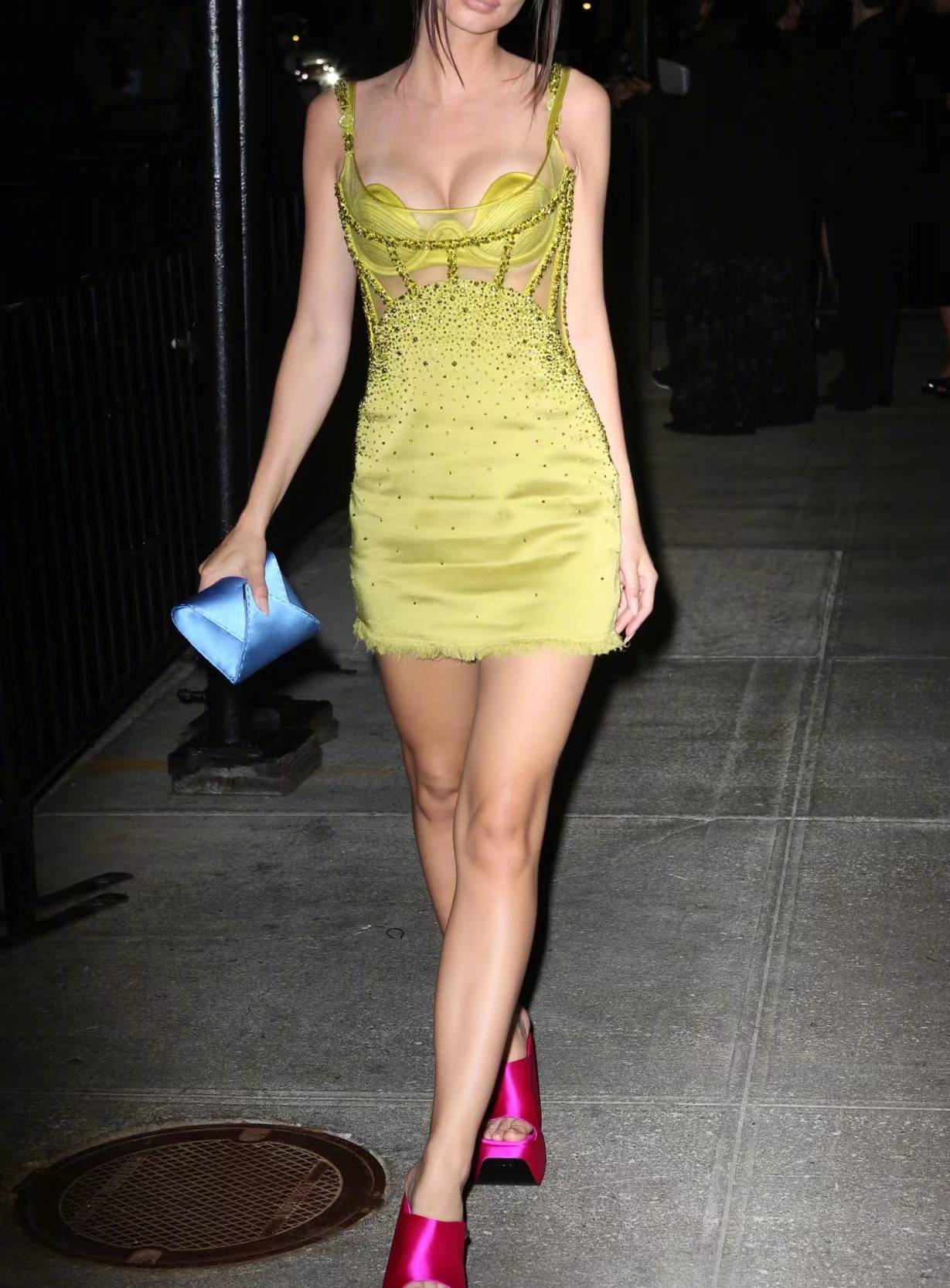 There is a famous saying that "You are what you wear".
THUS,how to wear fashionable and comfortable, has become a recent problem for many girls . With the awakening of feminist consciousness,women are increasingly brave enough to show their own bodies.Choosing the right bra to wear has also become a challenge.
Advantages & disadvantages
Obviously,adhesive bra springs to mind first when choosing bra in summer.It brings the feeling of freedom for the pursuit of self-released woemen.
Women often fall into some misconceptions. Many girls believe that No bra or just wearing adhesive bra is unconditional choice for liberating their breasts.However,in our daily life we can't avoid running or catching the bus on the way to work,so it's easy for us to encounter some embarrassing moments.If women do not wear bra for a long time, they will let their breasts come into directly contact with clothes, which are made of a variety of materials, then if they do not pay attention to hygiene and cleanliness, it is most likely that they cause harm to the health of the breasts.The material of adhesive bra is not generally breathable, and some girls with sensitive skin wear it for a long time will be allergic. And wearing it in summer will sweat, slippery and possible to fall off.Sometimes even unavoidable to reveal the adhesive bra.

Why choose strapless bra?
Perhaps you might say why we can't choose other bras?You can certainly choose other needs,but strapless bra would be a better choice.The strapless bra or a bra with clear strap is not only suitable for wedding parties but also can make our outfit of the day better.What's more,strapless bra can be held for a long time, not easy to fall, and full of security.
Combining the above factors, strapless bra is becoming a better choice for us.
How We Choose Strapless Bra?
An ill-fitting bra can absolutely ruin your day. You know the feeling — straps digging into your shoulders, skin popping out the sides, a band that won't stay in place. These are all signs that your bra doesn't fit and that you need to measure your actual bra size for a new one. It's incredibly simple to measure bra size at home with just measuring tape. Once you've got your measurements, you can take those with you to the store to find a bra that fits like a dream.

There are three easy steps for how to measure your bra size:
1.Measure your band size.
2.Measure around your bust.
3.Find your cup size.
Once you have the band measurement and your cup size, you can pair the two together to determine your bra size.Then correspond to the table of size, you can start shopping for your own bra.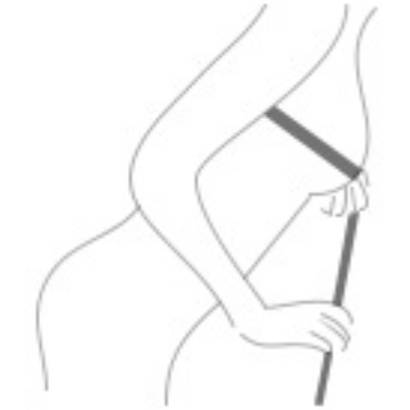 Thebrand measurement is measured like this

Lean forward 45 degrees and circle the highest point of the chest with a ruler.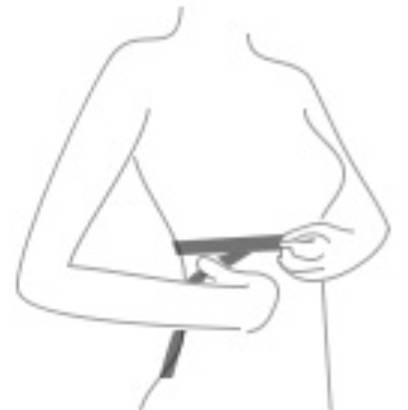 The lower bust is measured in this way.
Body upright, using a ruler to make circles at the bottom of the chest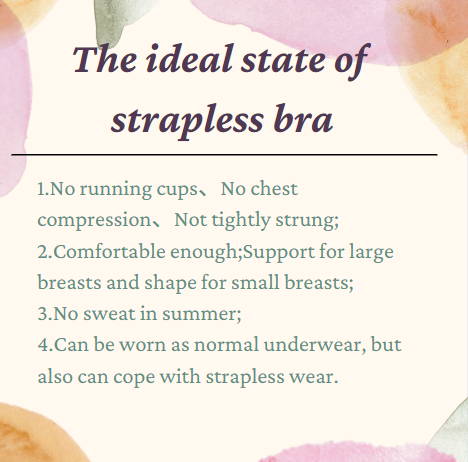 There's nothing worse than constantly tugging at a piece to bring it back into place, and the last place we want to make adjustments was during a wedding.Also,I believe that most girls have these thoughts when buying strapless bras.Imagine how awkward it would be,if your strapless underwear slipped off when you are walking on the street. So anti-slip is a primary factor for choosing strapless bra.On the other hand , if the bra too tight, it will leave us breathless.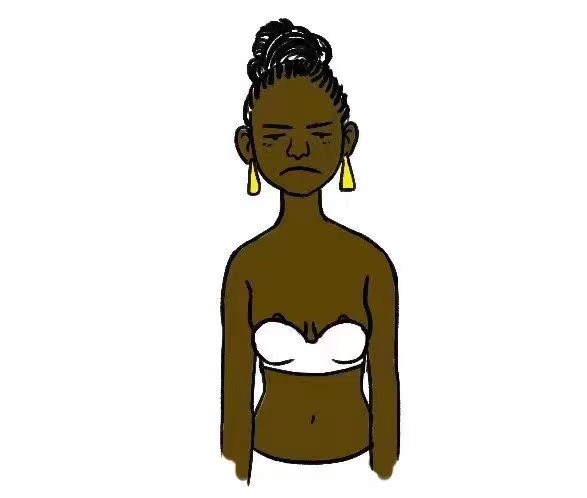 Here, let me introduce you some strapless bra styles and how they match with clothes.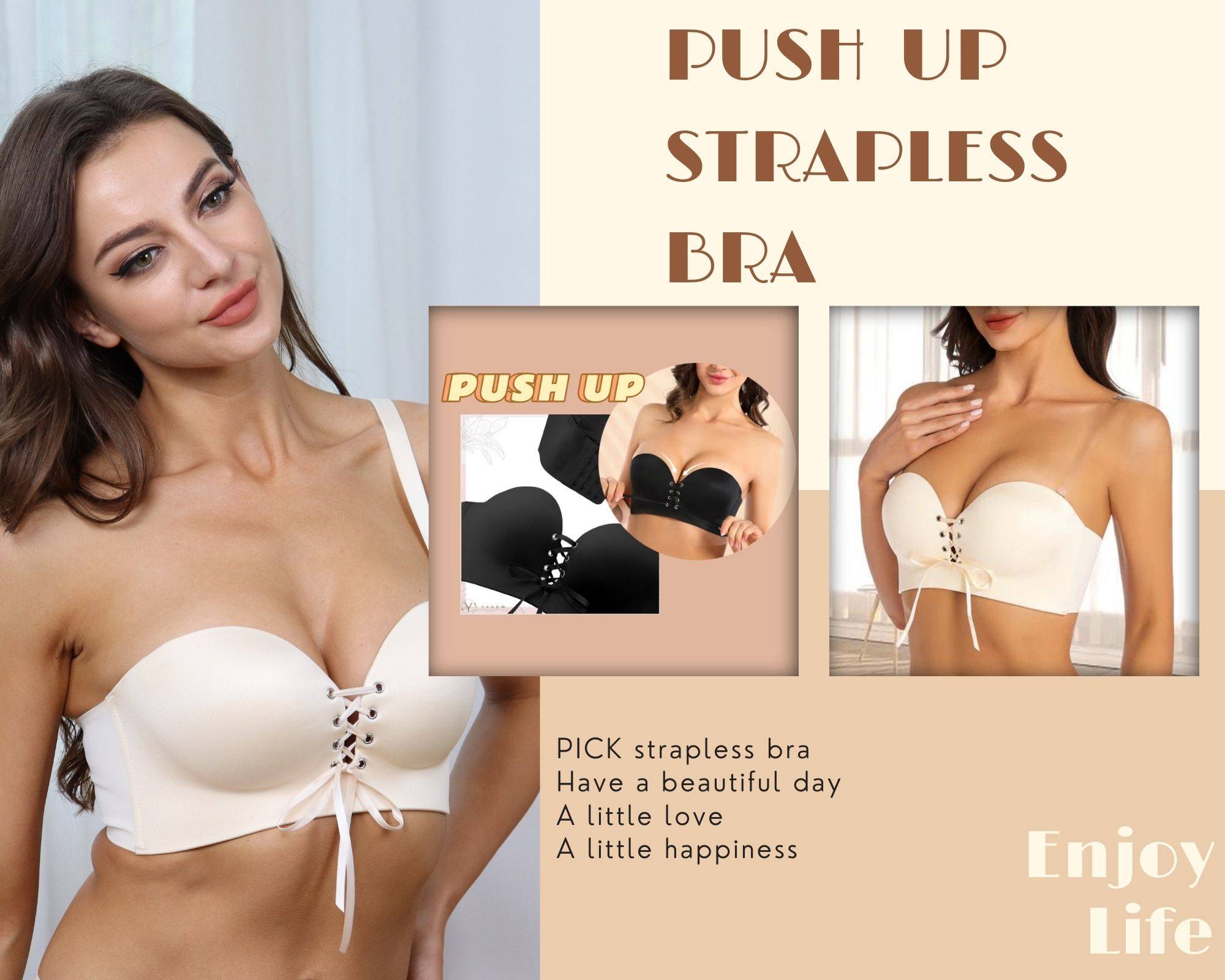 Push Up
&
Adjustable Drawstring Bra
It's easy to put on, and it actually provides a good level of support for a straplessbra. women sometimes prefer it in place of their regular bras because it's so much more comfortable.
You can pair it with a deep v clothes it also be worn underneath regular clothes to keep your breasts glued together.
Whether it's a dress or a deep v suit, this bra will work well.
Make sure you look your best (and perky) with help from the gripper strips located on the top and bottom edges of this extra supportive bra.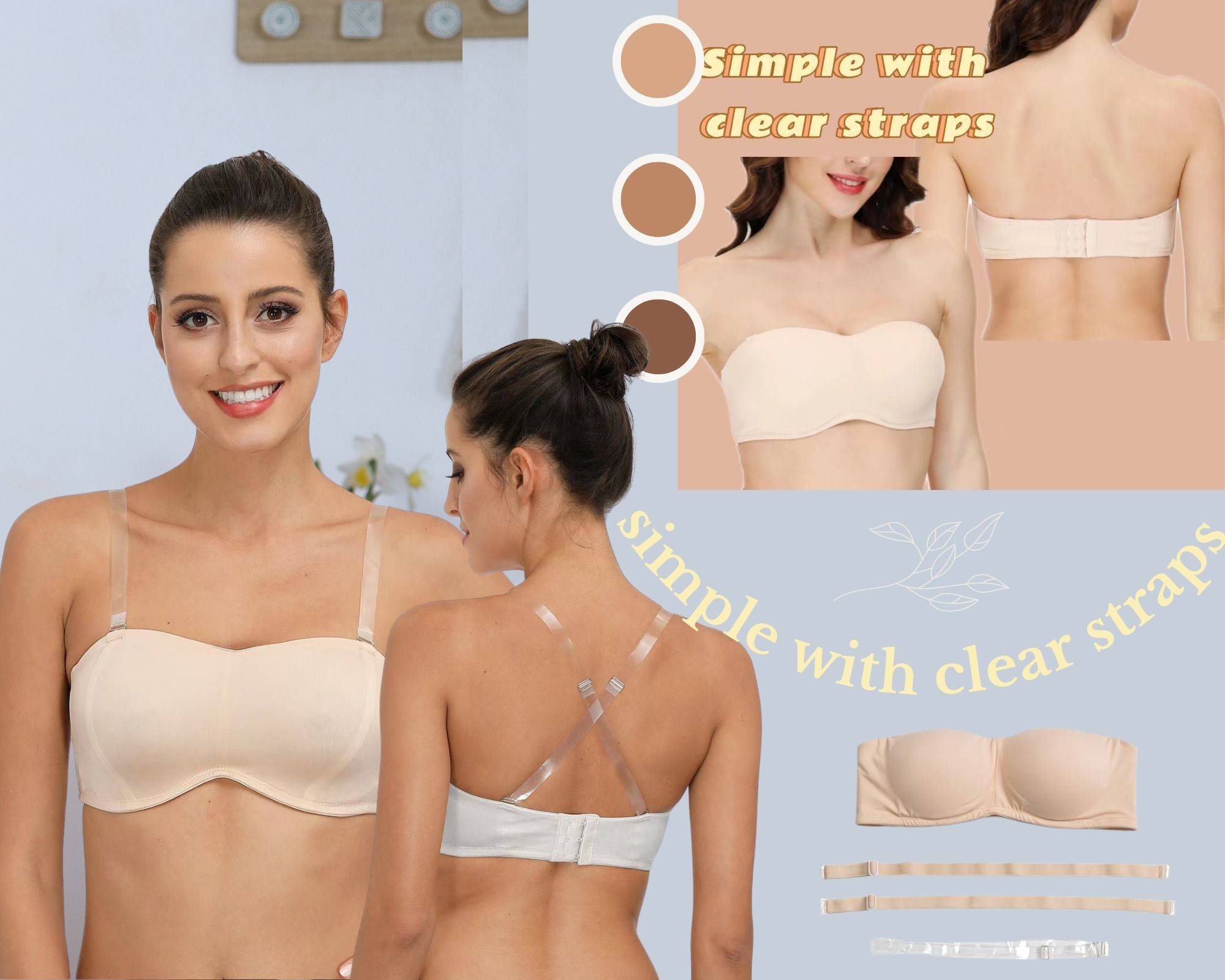 Simple Strapless
&
Clear Straps Bra
This one-piece bralette bra, not easy to go light, the ability to prevent light than the breast patch and the front buckle of the invisible Bra stronger, wear more secure.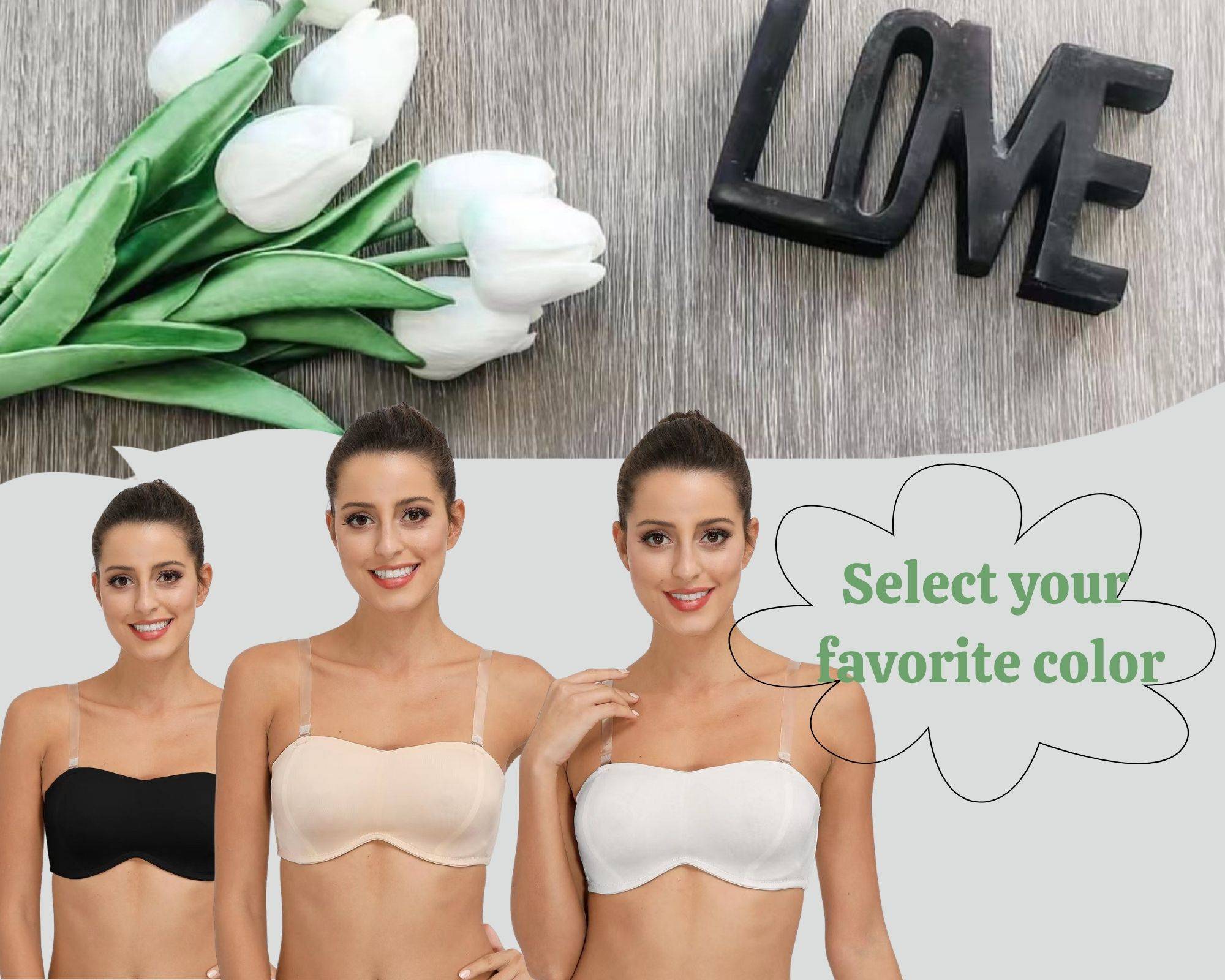 halter tops and camisole tops are good choice.
The silicone lining and boning help the bra stay in place so you won't have to constantly readjust.
Many shoppers say it fits like it should and looks great under summer, fitted halter tops.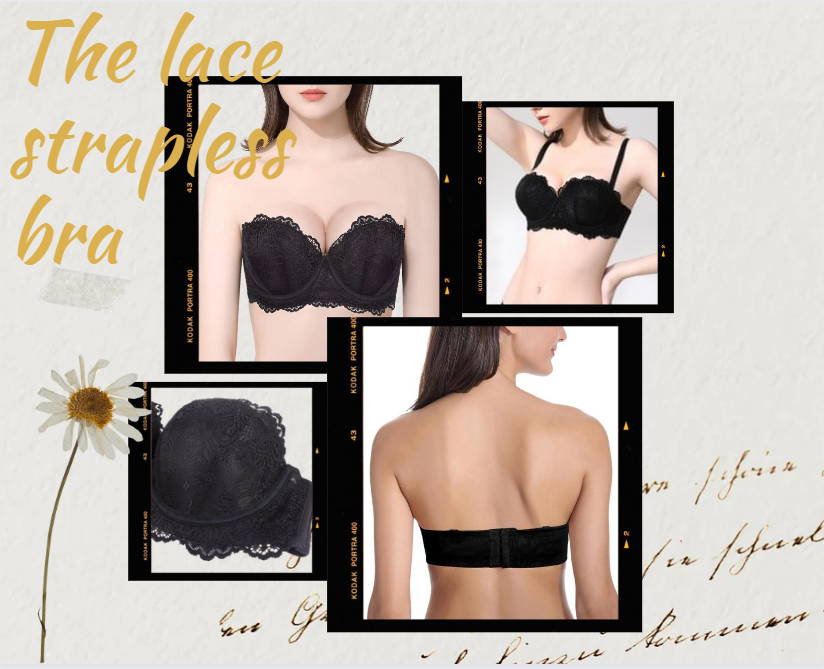 versatile
&
Full Lace Coverage Bra
You can choose whether to add a shoulder strap or not,and this bra with full lace coverage also provide you function including push up.It comes with removable, adjustable straps that can be worn in multiple ways for every outfit scenario.Meanwhile,it's also the easiest and most cost effective way.

Remember to give your chest extra support without sacrificing comfort or style.And nail your next shoulder-baring look with this full-figure, versatile bra.
Show some lace will make your outfit of the day more sexy.
For that,tank tops with high-waisted jeans will be most people's favorites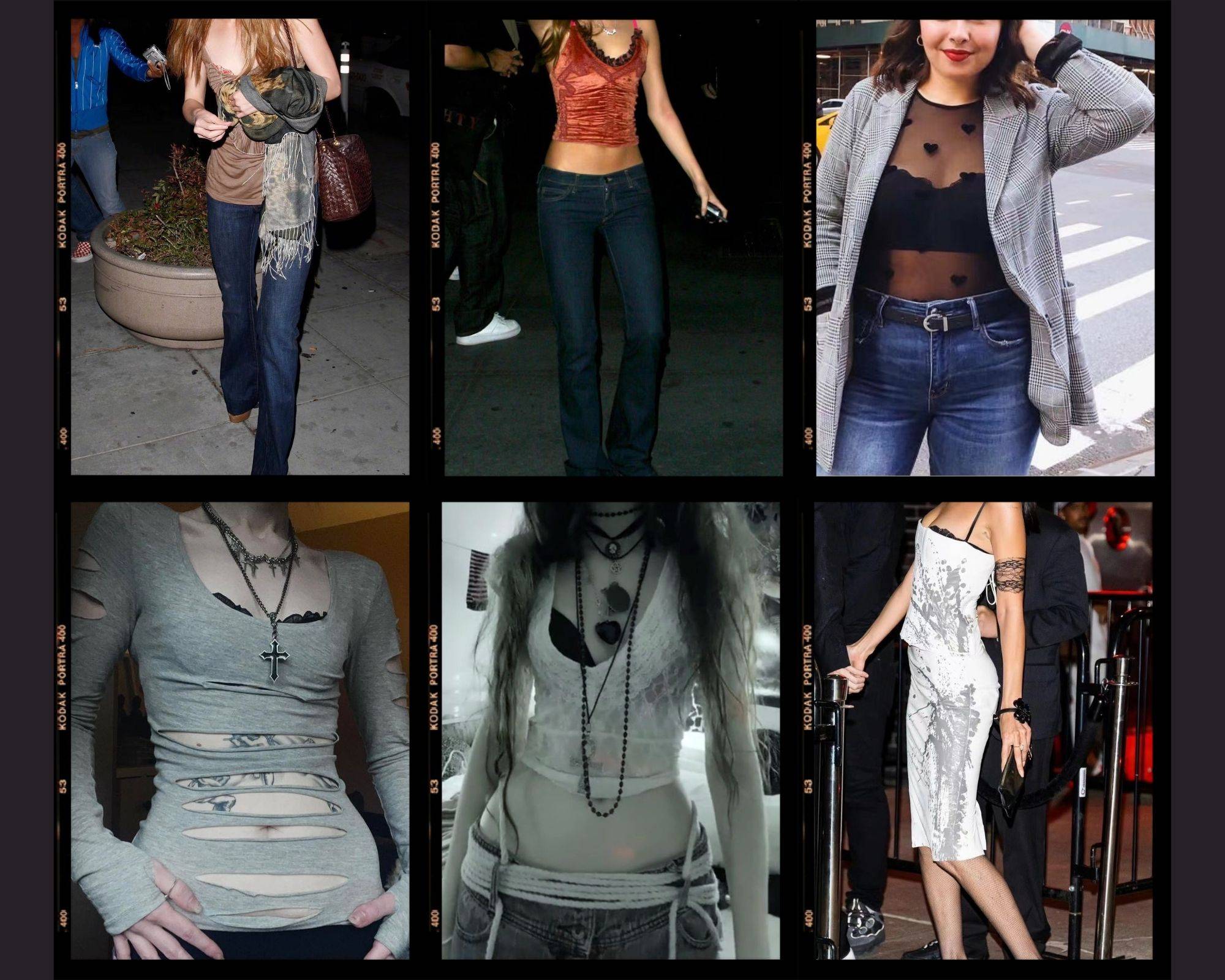 In general,
You can wear strapless bra whenever and wherever you choose.
Choosing the right type is vital of importance and it's all up to you,we are just offering a little advice.