No matter what kind of bra you typically wear or reach for when wearing an article of particular clothing or for a particular occasion, the universal response is almost always, "When will I take this off?".Even the most attractive undergarments can feel difficult to put on every day.
But the racerback bra is a shape that many women like due to its extreme comfort. And not just for relaxing or taking part in sports. You'll feel more at ease wearing bras thanks to fashionable modifications made of lace, mesh, and the newest technical materials, and you'll be ready to build an outfit around them as well.
12 best racerback bras for fashion girls on every occasion
You can wear the YANDW Front Closure Lace Bra without feeling uncomfortable. It is simple to wear because of the front buckle design. Show off your flawless, smooth backline with the racerback style, which will assist you in reducing back fat.
Excellent support and sagging prevention are provided by the supportive underwire. Because of the racerback, your shoulders and neck will feel less strain, and your back will look lovely.
Racerback style: Underwire Style
Price: $22.99
Size: 30-44
Suggestion match: Suitable under white dresses.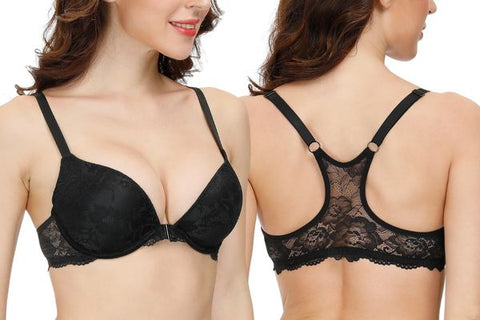 (Image from:Yandw)
La Perla Women's Natural Push-up Bra
With a modern touch, this bra from La Perla's translates the tradition of high craftsmanship. This bra has padded underwired cups with feminine flower designs and a scalloped edge to draw attention to the bust. A lace-up design at the bridge suggests that it was inspired by vintage corsetry. The bra perfectly shapes your breasts and offers excellent support.
Racerback style: Lace padded
Price: $273
Size: 32-40
Suggestion match: Best as Casual wear.
Never Say Never Racie Racerback Bralette
The best-selling Racie, never say never the racerback style you require is the bralette. It is featuring broad straps, a plunge front, and lightly lined cups. All of your racerback tops look great worn in this way. Under the bust, it features a strong band. This is quite mild on the skin and extremely durable as it is constructed of 91% polyamide and 9% elastane.
Racerback style: Pull-over style
Price: $65
Size: XS-XL
Suggestion match: You can wear it under racerback tops.
(Image from:COSABELLA)
I.D.SARRIERI Tuscan Holiday Bra
This racerback bra has smooth lined cups with detachable padding and is constructed of a blend of 70% polyester, 15% polyamide, 5% silk, 5% cotton, and 5% elastane. It is portable and simple to wear. Both sizes and a variety of colors are offered for this bra. Additionally, cleaning and maintaining are simple.
Racerback style: Lace Bralette with Racerback
Price: $170
Size: XS-XL
Suggestion match: Suitable for everyday use
Lively The Seamless Racerback Bralette
Soft and stretchy rib fabric is used in this bra to embrace and hold you in all the right places. A scoop neckline is present. Its seamless design looks fantastic over transparent t-shirts, camis, and tank tops. This bra has pullover styling and removable cups. With its racerback design and non-slip straps, it allows for easy arm movement.
Racerback style: Wireless
Price: $45
Size: XS-XL
Suggestion match: Look amazing over camis and t-shirts.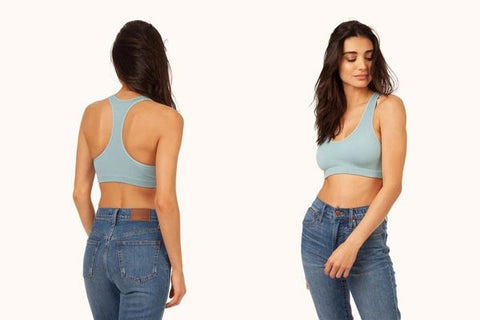 (Image from:Lively)
Skarlett Blue Goddess Multi-Way Underwire Bra
The clean-finished plunge neckline and tall cups make this the ideal bra for low-cut tops. The seamless fit is made possible by the Goddess lace band and back. It has a plunge v-shaped neckline with high underwire cups as a highlight.
For a smooth and sensual fit, the bottom band is laced with soft, stretchy goddess material. The material is made of a skin-friendly blend of 80% nylon and 20% elastane.
Racerback style: Multi-way underwired
Price: $48
Size: 30-36
Suggestion match: There should be more colors.
Savage X Fenty Floral Lace Racerback Bralette
Because lace can be more sometimes. With a racerback design, plunging neckline, and an all-over lace pattern, this floral lace bralette is stunning. You will be quite comfy because it is wireless.
It looks more exquisite in style because of the all-over flowery stretch lace. The fabric, which is lightweight and helps your skin to breathe, is made up of 87% nylon and 13% spandex.
Racerback style: Floral lace style
Price: $39.95
Size: XS-XL
Suggestion match: Best to wear at night parties.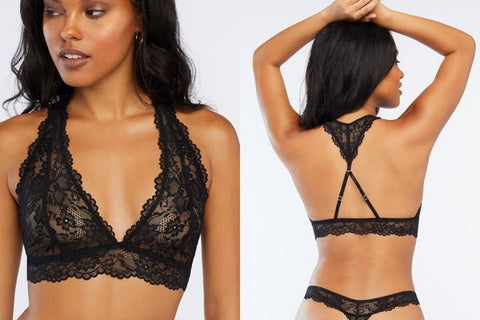 (Image from:Savage X Fenty)
True & Co Body Triangle Lace Racerback Bra
True Body Triangle Lace Racerback is so comfortable it's like wearing nothing (our favorite feeling). It has gorgeous layers that resemble lingerie and silky lace at the back. The lace-detailed racerback straps are adjustable. This is made from the softest fabric in their collection, the silky, barely-there True Body microfiber with wire-free style pulls.
Racerback style: Sports Bra Style
Price: $52
Size: XS-XL
Suggestion match: Ideal for the workout.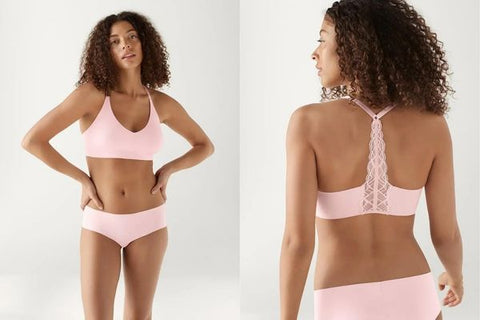 (Image from:True & Co)
Calvin Klein Performance Seamless Racerback Sports Bra
This sports bra is built with a seamless design for a smooth feel and is ready for a variety of movements. For maximum support, it is finished with an elastic understand and racerback design. The fabric is a silky, flexible, sweat-wicking dream made composed of 92% polyamide and 8% elastane.
Racerback style: Sports Bra Style
Price: $35
Size: XS-XL
Suggestion match: Ideal for sports activities.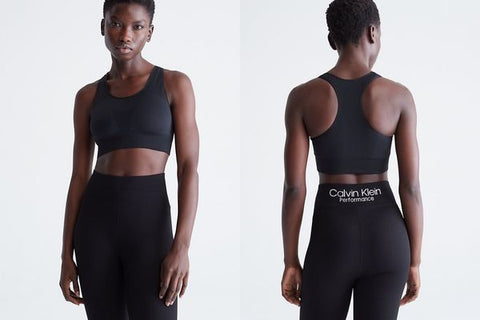 (Image from:Calvin Klein)
EBERJEY Women Collette Racerback Bralette
This bra is ideal for daily and informal wear. Huge cups make it easy to fit large breast sizes. It is lightweight, comfy, and supportive. It is made of a sturdy, high-quality nylon and spandex fabric blend. It is available in many sizes and colors. Additionally, cleaning and maintenance are simple.
Racerback style: Lace Style
Price: $42
Size: XS-XL
Suggestion match: Best to wear under tank tops.
Clo Intimo Fortuna Lace Racerback Bra
Looking for clothing that works equally well in the bedroom and under a vest top? The solution is AdoreMe's Leia Contour bra!
It has tasteful and exquisite lace decorations on the straps and the back.
The fabric is a nylon and spandex combination, making it incredibly soft and non-stabby. Its hook and eye bra are ideal for usage as outerwear.
Racerback style: Lace Style
Price: $98
Size: XS-XL
Suggestion match: Best to wear under top also used as outerwear.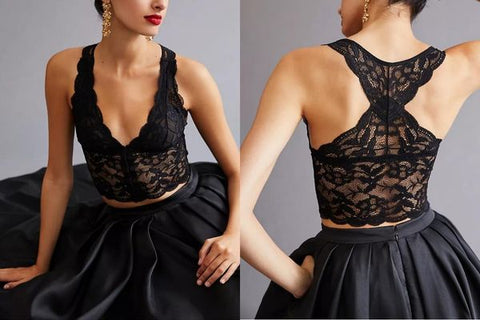 (Image from:Anthropologie)
Soma Breathe Medium Impact Racerback Sport Bra
The Bliss Breathe Racerback Sports Bra, a Soma Intimates exclusive, is the ideal fusion of athletic flair and feminine appeal.
With all the elements for excellent comfort mesh for airflow, removable pads that remain in place, and recycled moisture-wicking fabric, this light athletic bra with a sleek racerback style gives you light to medium support.
Racerback style: Sports Style
Price: $38.38
Size: XS-XL
Suggestion match: Best to wear as a gym outfit.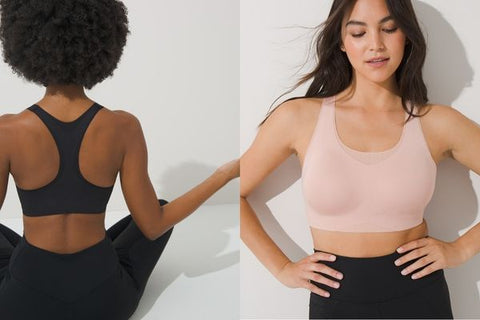 (Image from:Soma)
Frequently Asked Questions about Racerback Bras
》Do racerback bras give more support?
Add a racerback bra in my collection of daily bras. In addition to being a fashionable choice to go with sleeveless tops, racerback bras also offer larger-breasted women more support than other bras.
In the middle of your back, where the straps cross, the bra is elevated an additional degree.
》What do you wear a racerback bra with?
You can't wear a racerback top with a standard bra unless you don't mind your bra straps showing.
Racerback tops are fashioned in a way that emphasizes your back and shoulder blades. Racerback tops should be worn with a particular undergarment that can be covered behind the top's exposed back instead.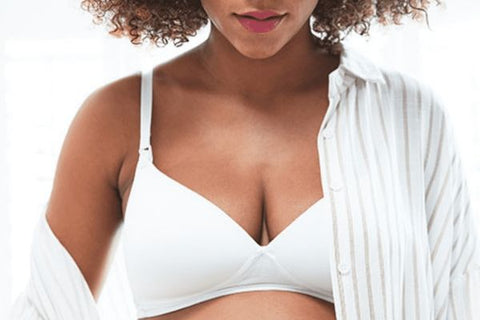 Racer Backstyle's meaning?
This sort of apparel is simply categorized by the shape of the top's back portion. Racerback bras provide support for all sizes of women, but they are especially useful for those who have large breasts. This is because the straps are intended to meet and cross in the center of your back, giving your bra an additional lift angle.
Racerback bras, as opposed to typical bras, better, secure your breasts because the straps meet in the middle. The support of a racerback bra is unmatched, whether you're wearing wireless or underwire bras.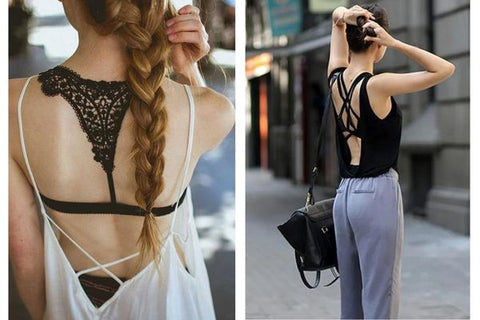 What is the use of a racerback bra?
A racerback bra's straps are intended to meet and cross in the center of your back, giving it an additional angle of lift. A racerback bra can provide full-figured ladies with the best support when worn in combination with a supportive band, cups, and side wings.
The straps' special arrangement helps distribute weight across the entire back, relieving the pressure that big breasts could otherwise place on the upper back, shoulders, and neck. Since this bra is so delicate on your skin, it never digs into your shoulders or back or leaves blisters or marks there.
5 reasons to wear racerback bras
In the summer, you want comfy, breezy bra styles that don't scrimp on support. These five factors make racerback bras an obvious choice when these basic conditions are met:
Supportive:Bras with racerbacks offer fantastic support. Once more, the straps provide some additional lift because they are slanted inward toward the middle of your back. As a result, racerback bras are also popular among smaller-busted ladies who want to show a little cleavage.
Comfortable:Their design has the straps meeting in the center of the back at an angle inward. The straps are less likely to come off your shoulders because they are fixed more tightly inward around the neck. Because of the way that racerback bras' straps are designed, your breasts' weight is dispersed more equally across your entire back (as opposed to just your shoulders and upper back).
Superior Lift:Your breasts will naturally rise when your back is tight, sitting straight and in the middle. This creates a form that looks good in all of your summer clothing.
Fashion Trend:When paired with racerback bras, athleisure tops and stylish racerback sundresses are right on trend for showing off your shoulders. You'll look chic in any racerback design this summer, whether it has posh prints, eye-catching solids, elegant piping, or lace
Cover Back Fat:You should choose a front closure design for this to cover back fat because it is simpler to put on and take off. This may be worn subtly beneath your favorite shirts and outfits.
How to choose the best racerback bra for yourself?
You should take into consideration a few fundamental points while purchasing a racerback bra for yourself.
Size: It is challenging to offer advice and ideas about what you should seek because size is entirely dependent on your physique. To get a racerback bra that fits you perfectly, you must be aware of your bust size. If not then you'll have to deal with a droopy bra.
Style: There are many different racerback bra designs on the market. You can make a choice based on your preferences, such as whether you like underwire or wireless.
Function: Racerback bras can be worn both as undergarments and as outerwear. In the summer, it is preferred to wear it as outerwear. If it's still freezing where you live, think about wearing a Lace Racerback Bra as innerwear inside a sweater.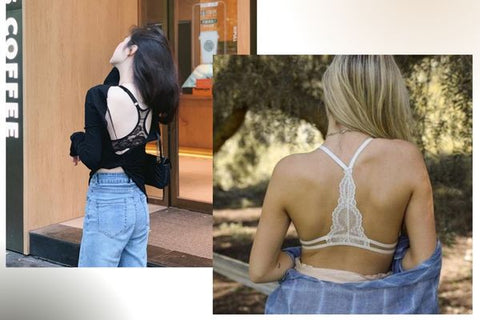 Conclusion:
Racerback bras are not only necessary, but they also let you express your style. You can wear them to the gym or a beach party while wearing tank tops and camisoles without any issues. They keep you comfy all day long and provide excellent support.