With wedding season officially here, you might (understandably) rush to wear all the beautiful dresses that just chilled in your wardrobe over the months—and the best strapless bras can facilitate completing your wedding outfit.
You have a wedding this weekend. You take an hour to find the ideal shirt in your wardrobe that's not only pretty but also elegant and fits admirably. But here is a drawback. It is a strapless blouse, but you have no strapless bra to wear with it.
For those who wish to re-style their present bras into a strapless form, we have made a comprehensive guidebook on how to make a bra strapless.
Pick up the definite steps for how to make a bra strapless. We will go through four distinct methods, varying from making a bra strapless without removable straps to sewing your bra into a shirt or tank top. 
These methods will encourage you to turn any bra into a strapless choice and are ideal whether you have a big bust or a smaller chest.
Method 1: Hide the Straps
If you don't choose to deal with bra straps anymore, keep reading to learn how to hide your bra straps easily.
1. If you put on a racerback tank top and don't want your bra straps appearing on your back, use a safety pin or paper clip to clip the back of the straps collectively. The straps will hold simultaneously with the hook and become instantaneously imperceptible under your tank top.
2. While most conventional bras come with dyed or bald straps, you can purchase separate, distinct straps to hook up to the bras you previously own so that you still have the help you require without the visible straps.
👍 Pros of this Way
We can quickly transform a strapless bra into a standard bra without cutting the straps.
If time is the bottom line, we propose favoring this choice.
👎 Cons of this Way
Revolving around your preferred bra might induce the cups not to lie straight against your breast.
A bra strap that's settled under the band of a tight outfit is likely to show.
Method 2: Convertible Straps
It is a straightforward method and makes up a perfect strapless bra by turning your traditional bra into one. Some bras have convertible straps. Check your bras and see if the straps are removable on any of them. If they are, then follow these steps.
Put on your bra
Fix straps to the maximum diameter
Wrap the left strap around your ribcage
Hook the strap into the right hook on the band
Repeat steps 3 and 4 with the opposite strap
Fix your straps for an appropriate fit
👍 Pros of this Way
It is the simplest and fastest choice.
There are no permanent modifications to your bra; it only takes a few minutes.
It adds an extra strength layer by keeping the bra in place by narrowing the straps against your body.
Despite their strapless style, convertible straps provide supportive benefits.
👎 Cons of this Way
Most don't even have a convertible bra to maneuver it.
Even if you have a converting bra, it is a probability that this peculiar hook element is not accessible.
Method 3: Cut the Straps
Those who like sewing and wish to fix their clothing will cherish this DIY strapless bra option! It is best to adopt either a sewing machine or a needle and thread, although either will do the trick.
Take a traditional bra that fits you correctly but that you don't mind transforming. You will dispose of the straps from this, so keep that in mind when choosing your bra.
Lay the bra straight on a desk. Cut off the bra straps with fabric scissors. Try to cut as close as workable to the seams to evade leaving strap fragments.
If you are taking out the straps now, sew a route along the middle of the straps. This step will not untangle the fabric, and you can wash the costume how you would if you bought it that way. You can do this without a sewing machine, even though it will take longer.
Throw away the straps, and your new strapless bra is ready to wear.
👍 Pros of this Way
This method provides you with many achievements! Investing less money, being resourceful, and reusing a bra rather than throwing it out.
👎 Cons of this Way
We permanently disposed of the straps on this bra so that they would be trash. You will also have to spend more time sewing without a sewing machine.
Method 4: Sewing into your Top
If you have a favorite blouse or suit you choose to change to make it have a built-in bra, ​then you will love the results you get here! You will have a DIY strapless bra built into your shirt or tank top when done.
Pull out your sewing machine (or needle and thread)
Cut off the straps that go over your shoulder
Cut precisely behind the cartilage
Lay out the bra on a horizontal surface
Put on a top with the bra cups located properly
Stitch the sides of the bra to the side joints of the top
👍 Pros of this Way
If you sew the bra on, it will stay in place.
It relieves the pressure off your back since your top carries the bra in place–it is almost like not wearing one.
👎 Cons of this Way
If you prefer a strapless top for several tops, you would have to cut up a lot of bras.
With this one, you will only have one particular outfit option. Revolving around on your top will require sewing again and again.
Difference between DIY Strapless Bra and Professional Strapless Bra
For a DIY strapless bra, get a typical bra strap (like an extra one from a bra with removable straps), and hook it onto the back of your bra on one side. Next, bring it around your back and hook it onto the back of your bra on the other side. It is super easy and creates a good strapless bra.
On the other hand, a professional strapless bra is perfect for any strapless outfit. It fits firmly around your bust, as this is where most of the support comes from. Also, it has an anti-slip function and multi-way straps. It provides excellent uplift and cleavage, and you can wear it in multiple styles.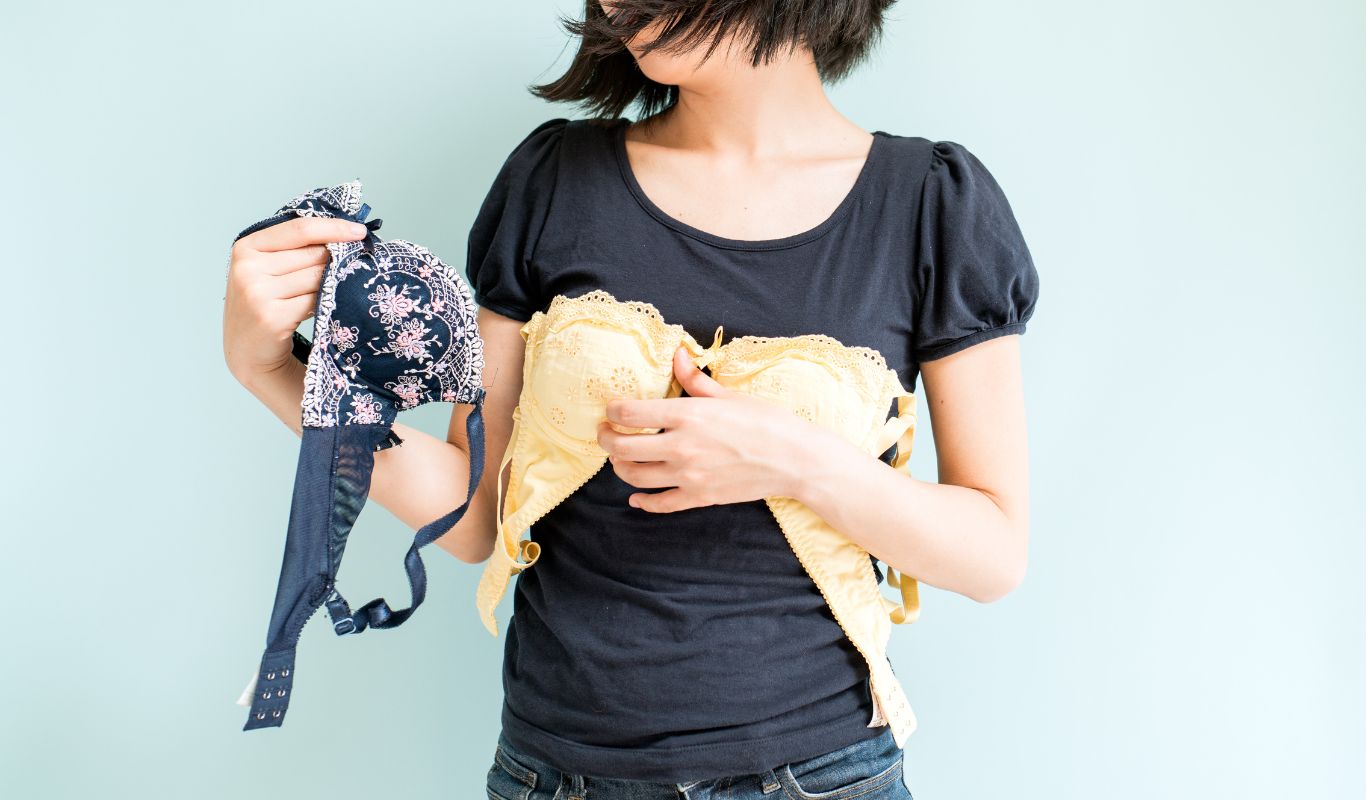 Why does your wardrobe need a strapless bra?
Admit it or not, most women can carry strapless and look good in it! The support of any bra, whether a strapless or a traditional one, comes from the band. The band holds your bust up, while the straps only facilitate the bra to lie straight against your bust. It means that you need extra support from the band and don't need the straps. 
Strapless bras are a must-have item in your lingerie selection if you prefer strappy and off-shoulder tops. A strapless bra lends support to the breasts and regulates the body so that everything is smooth when you wear your trendy tops.
Search for strapless bras that are convertible and have straps with adaptability. You are cheating yourself if you don't pursue a convertible style. Search for ones with straps long enough to become halter bras, crisscross bras, and traditional front strap bras.
These 3 Strapless Bras You Can Try
Below are the three strapless bras highly recommend that you can try and hope can get you like. 
💬 Material: 66% Recycled Nylon, 34% Spandex | Colors: True Black,Midnight Sky Universe,Horizon,Sands | Sizes: 32-40  A-D
This pull-on bra shapes and defines an extremely organized bra but seems more like a bralette. Without an underwire, hooks, or visible joints, it lies straight and doesn't appear under form-toned clothing. It tops out at a 40-inch band. I loved this bra a lot; it brought a lot of relief.
However, the band seemed more petite and tight than it should have been. It fit more like a 36 rather than a 38 for me personally. If you like a looser fit, be sure to size up.
💬 Material: 90% Polyester, 10% Spandex| Colors: Beige, Black,white| Sizes: 32-40  A-E
YANDW Strapless Lace Bra gives the anti-slip result for you all day. If you put on this Bra, can convert into 3-ways: strapless, normal wear, normal wear with clear straps, match any halter or strapless outfits. 
It allows you to attend all kinds of parties and banquets carefree. It also helps you reduce your worry about exposing the bra straps. Reviewers like its anti-slip design. It ensures the strapless bra stays in place all day.
💬 Material: Nylon/spandex | Colors: Black, Beige | Sizes: 32-44  AA-H
This functional, charming, soft bra has removable, adjustable multi-way straps, which is suitable for everyday wear. But it can also convert to give a sophisticated push-up for special occasions. It comes in a wider variety of sizes, comprising half measures. It is available in two colors. 
Reviewers liked the lightly lined inner cups that are soft and mold to the skin and the mesh overlay that includes extra polish and blocks spillage.
Conclusion:
Carrying a strapless gown or top on is stylish. The only consideration is the bra. Still needs to stand in place? Seek fashion paste. I hope you have read many techniques to make a bra strapless and are ready to try the one that fits you properly. 
How would you style it if you wore a strapless bra? Feel confident and smile while wearing a strapless outfit.