If you're looking for a bra that's both sexy and comfortable, we will recommend a sheer mesh bra for you. These bras are made from lightweight and breathable materials that allow your skin to breathe, perfect for hot summer days. They provide minimal coverage, which makes them ideal for wearing under low-cut, sheer, or backless tops.
Sheer mesh bras come in various styles, including bralettes, balconette bras, and underwire bras. They can be adorned with lace, embroidery, and other decorative elements to add a touch of elegance to the design. Some sheer mesh bras also come with adjustable straps and hook-and-eye closures to provide a customized fit.
When shopping for a sheer mesh bra, it's crucial to find the fit and comfort level one, and check the fabric content to ensure it's soft and stretchy. With the right fit and style, a sheer mesh bra can be a great addition to your lingerie collection.
Top 10 Sheer Mesh Bras of 2023
Here are the top 10 sheer mesh bras of 2023 that will offer comfort, support, and style.
This mesh bra uses lightweight fabric, offers no bra feeling, and the see-through design adds attractiveness. Demi cup bra with fantastic sheer mesh and scalloped floral lace trim makes you look chic and stunning. It's comfortable, sensual, simple but elegant, and cozy appeal.
Material: 90% Polyester, 10% Spandex
Size Range: 34-44, B-F
Price: 16.99 USD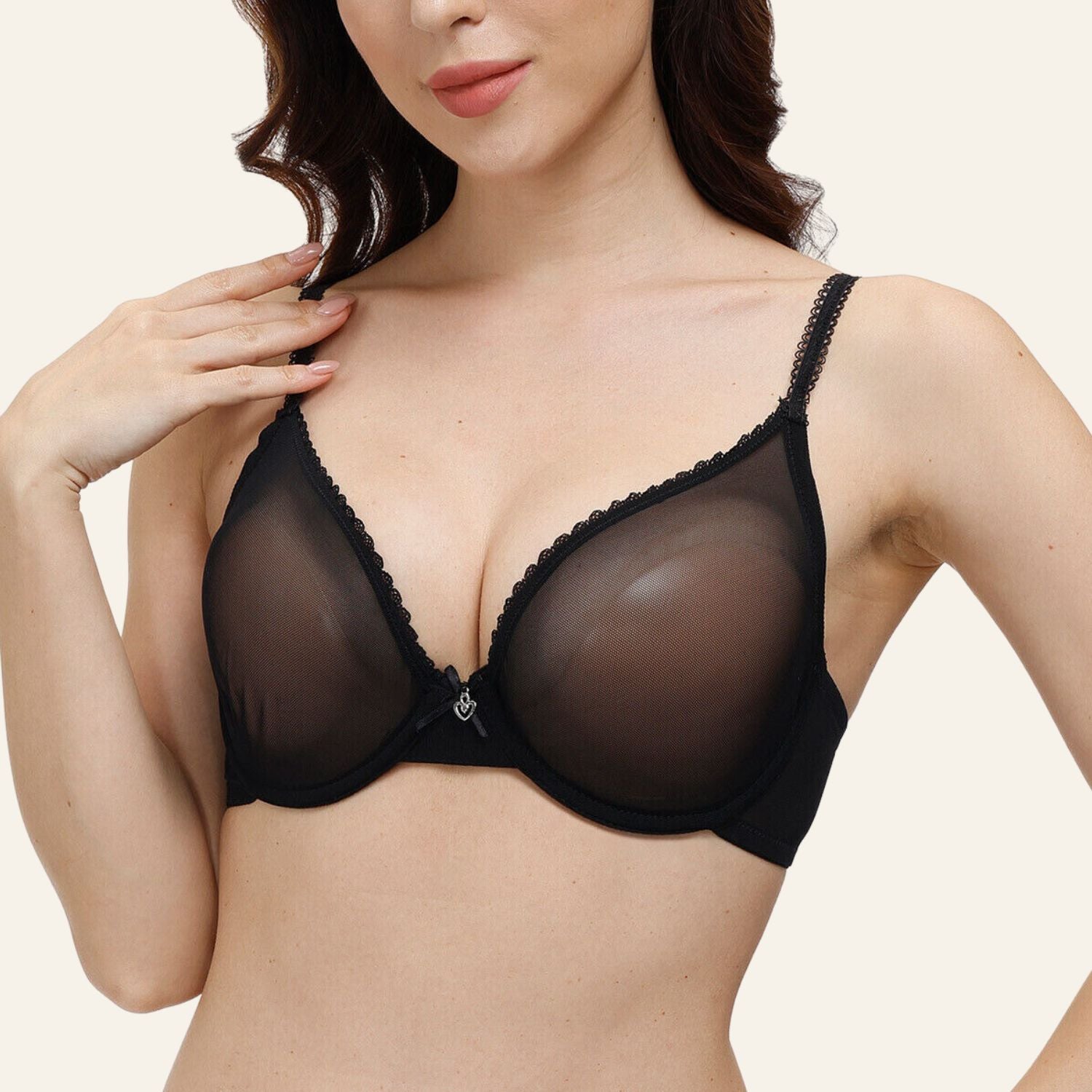 This bralette with semi-sheer lightweight material, minimal coverage, unpadded, and wireless offers the most comfortable feeling. The triangle design provides a deep v-plunge neckline, adding stylish to match different clothes. The sheer aspect gives it sexiness. It's suitable for all-day wear, and even though the viper matorral is thin, it still provides a lovely shape and support.
Material: 79% Polyamide, 21% Elastane
Size Range: XXS - XL
Price: 45 USD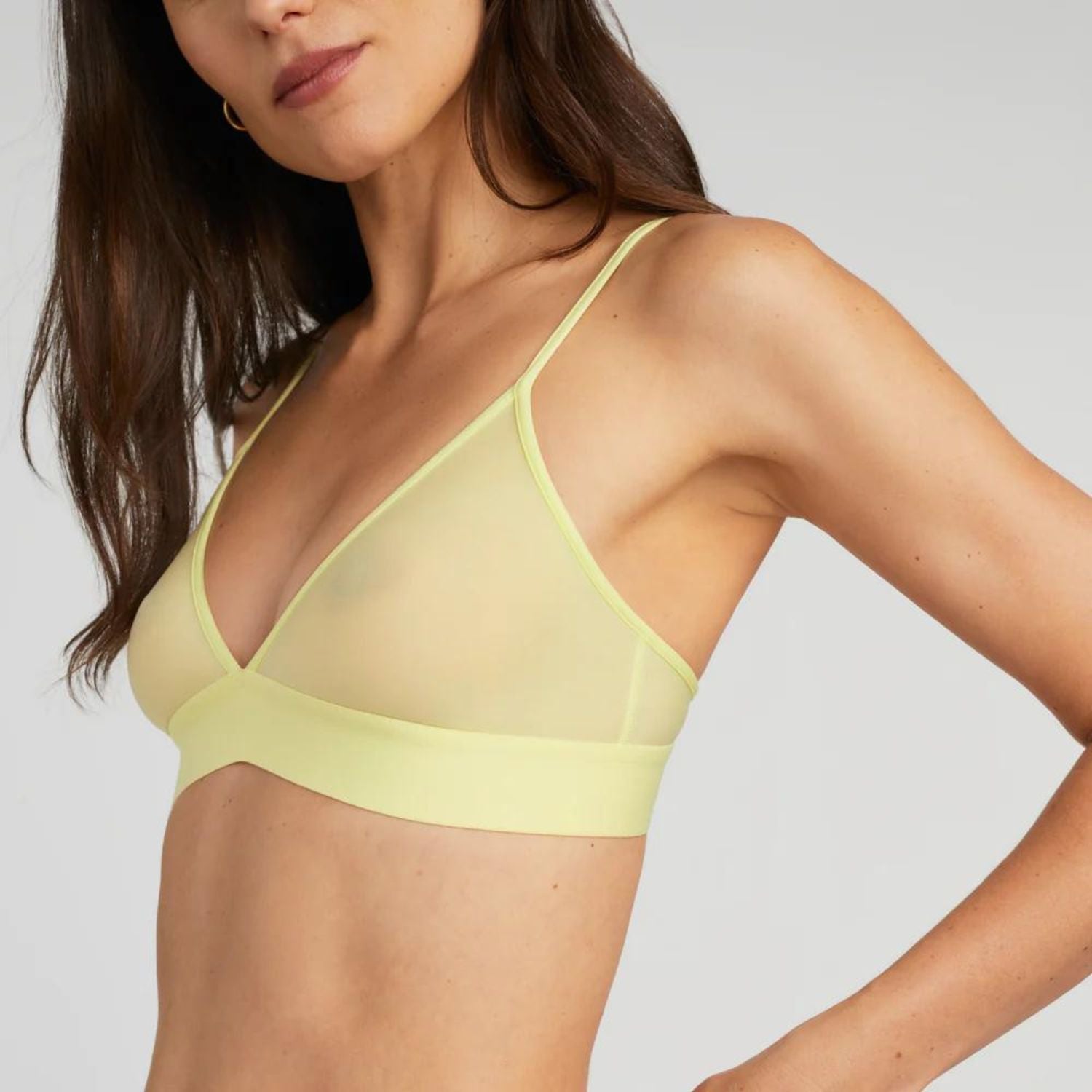 They are sexy as well as comfortable. Great triangle shape - no pad and no wire. Not only is this bra seamless, but almost as if you're not wearing anything but with support! The fabric is soft and the band sits well without digging in or riding up, a perfect blend of sexy sheer and comfort.
Material: 74% Polyamide, 26% Elastane
Price: 65 USD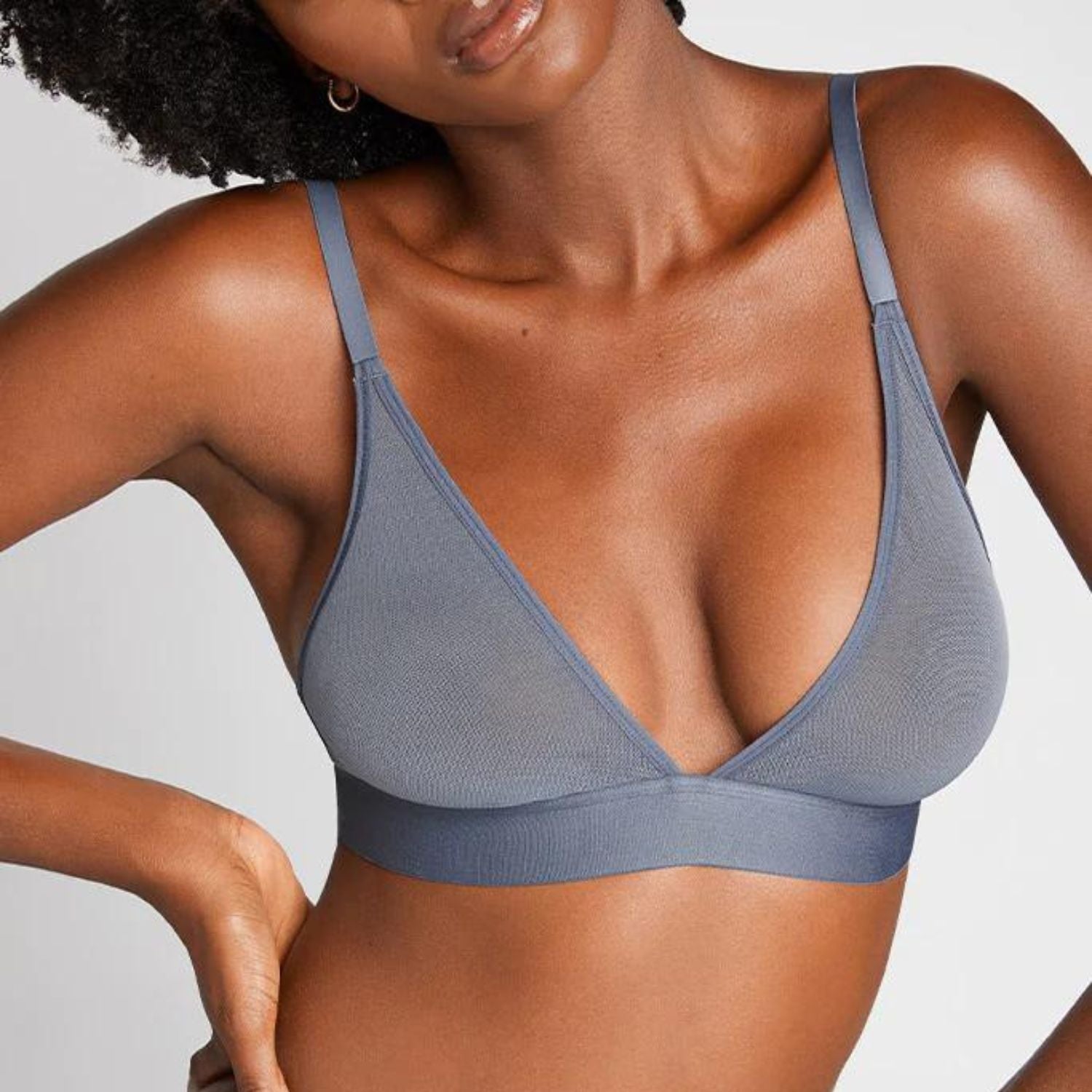 This sheer mesh bralette's front closure design is super easy to put on or wear; use a soft material to prevent bother when wearing. The detail of baby bondage rope in the back and embroidery add stylishly. You even can wear it as outwear, show your beautiful natural shape,
Material: Body: 96% Polyamide, 4% Elastane; Neckline: 100% Polyester;
Size Range: XS-3X
Price: 12.23-44.95 USD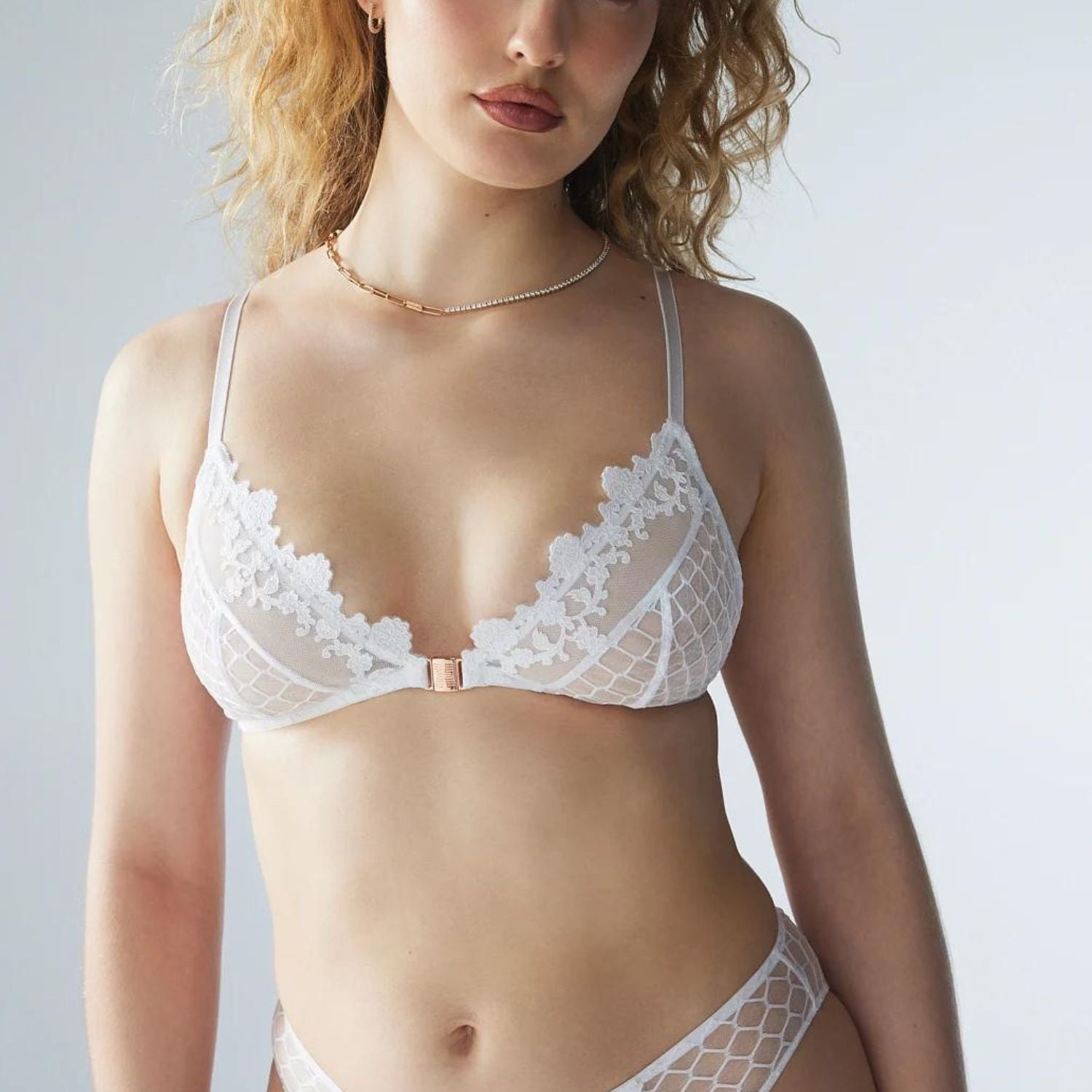 This is a perfect everyday sexy set that offers extremely comfortable. The bra gives excellent shape and support, even being an unlined bra. The lace shows through t-shirts but is fine under most other fabrics. It's sheer and revealing, and sexy.
Material: Nylon, Spandex
Size Range: 30 -38; A-H
Price: 26.97-54.5 USD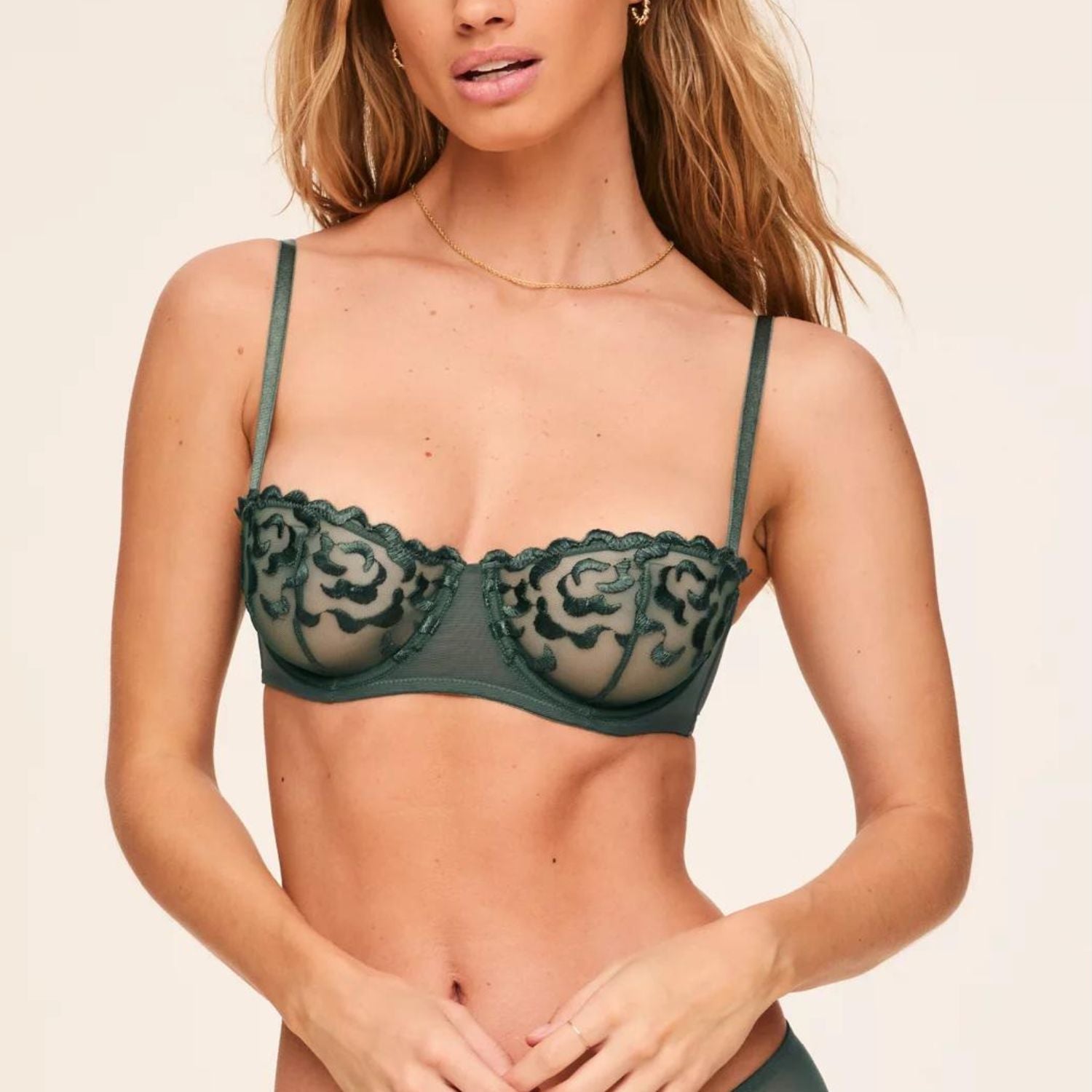 CUUP mesh bra with sexy pared down silhouette and insert underwire for support, plunge neckline naturally shapes and flatters to create an effortlessly stylish, feminine cut for every day. Soft sheer mesh material and unlined design make super breathable magic, perfect under your summer dressing.
Material: 79% Nylon, 21% Spandex
Size Range: 30-44; A-H
Price: 68 USD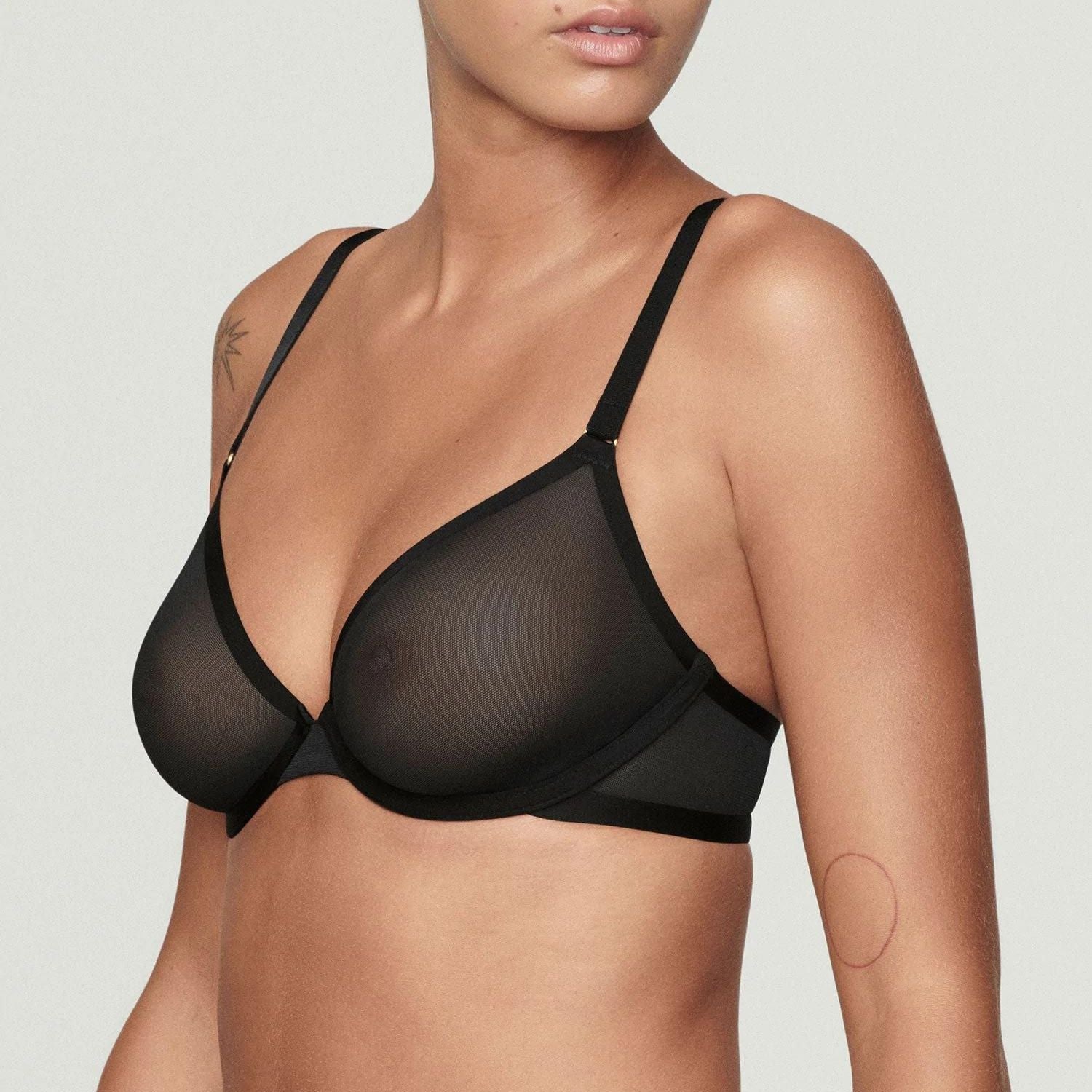 This summer sheer bralette is so sexy, ultra-soft, gorgeous, and fits well. Use light airy mesh material, brushed back adjustable elastic straps for ultimate comfort and altered loose fit to make your bra stay in place and feel more secure! It feels like your own skin after wearing it.
Material: 84% Nylon / 16% Spandex
Size Range: XXS-4X
Price: 36 USD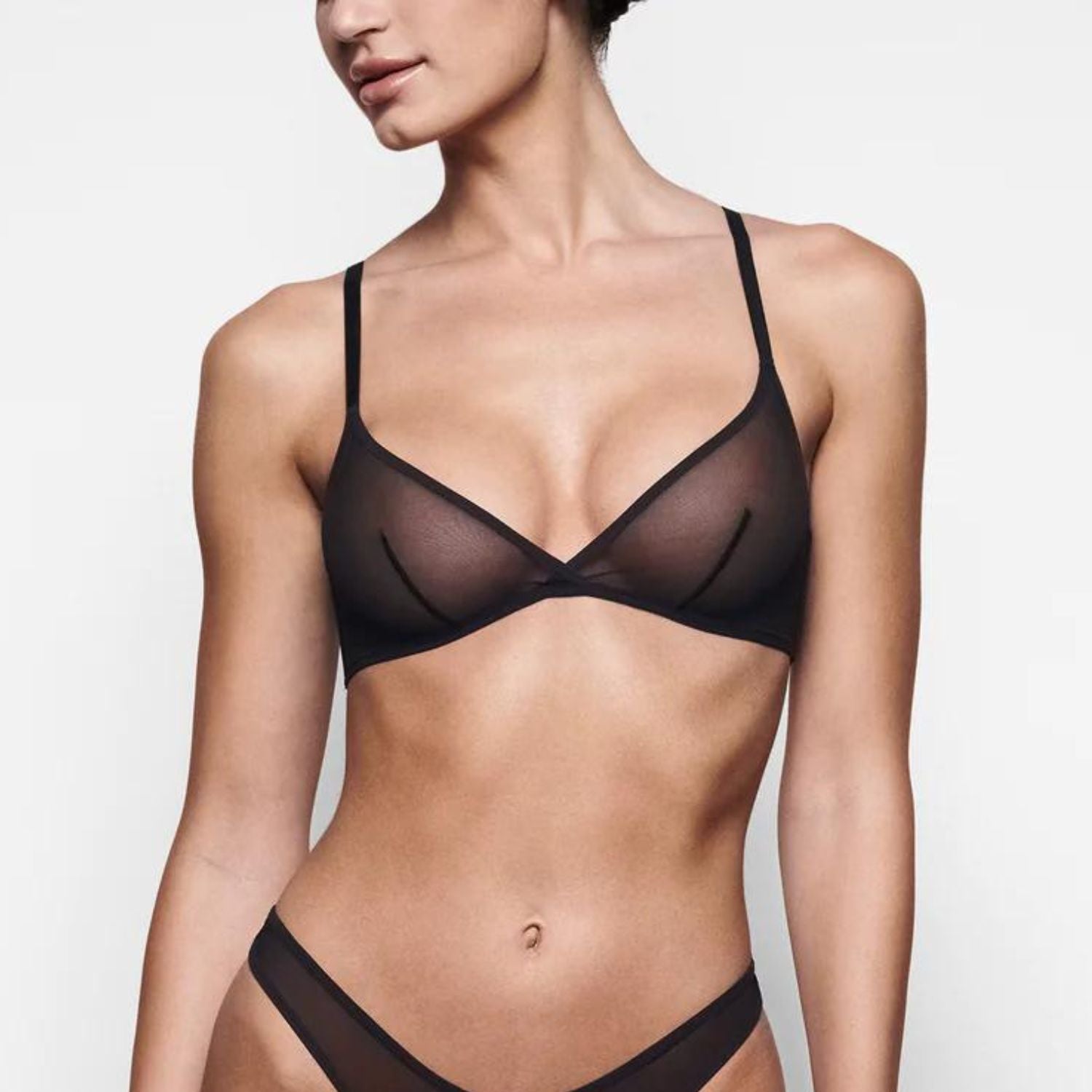 Cosabella smooth, barely-there wireless bralette designed for those with full busts with smaller bands. Feature with lightweight and comfortable sheer mesh lays smooth, flatlock seams and a modern look for all-day comfort. The lightweight sheer fabric does not make the uni-boob, which many bras do nowadays.
Material: 85% polyamide, 15% elastane / 100% polyamide
Price: 79.75 USD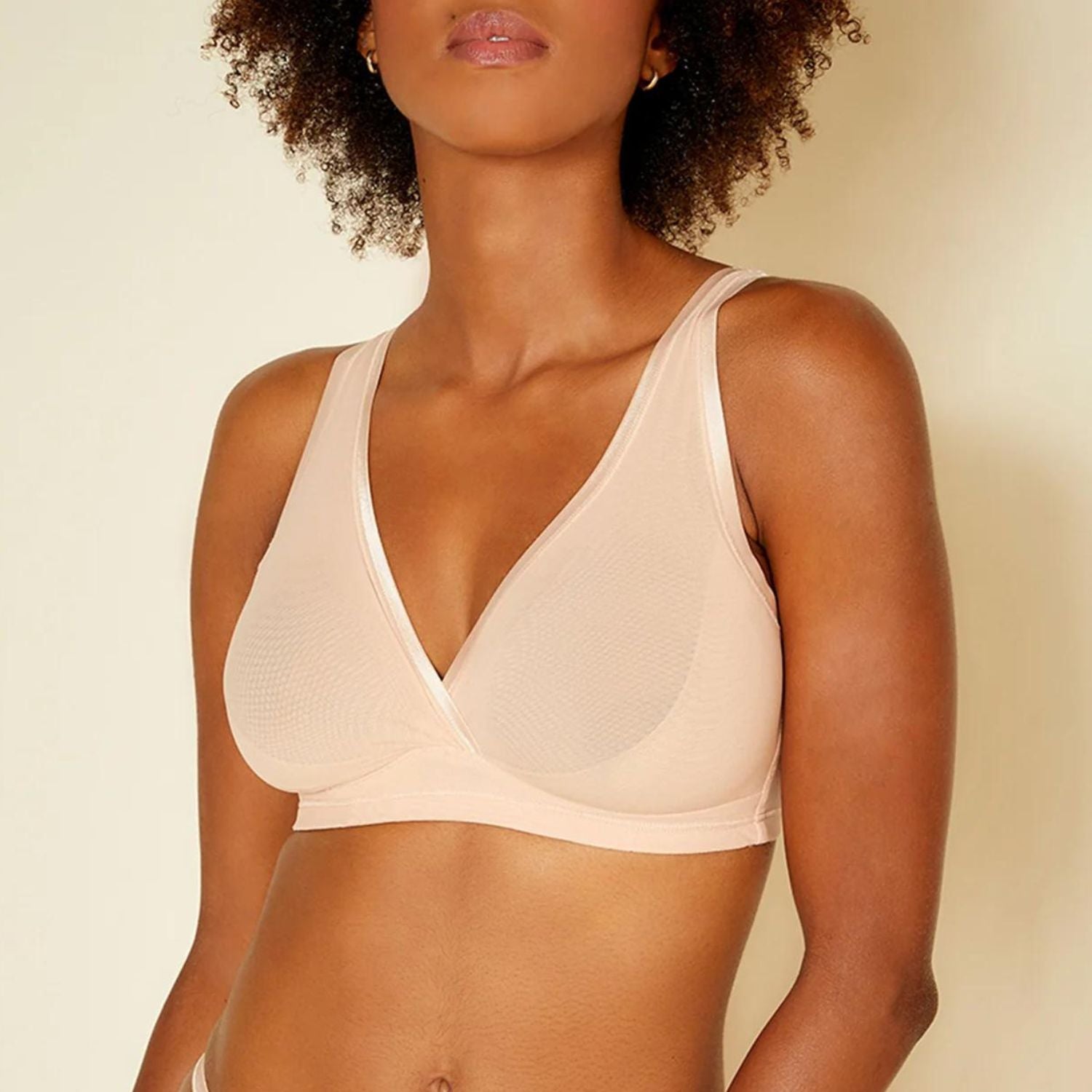 This unlined mesh bra with a modern balconette neckline is lined in mesh for edgy styling and breathability. It's comfortable even with wire, fits well, and is unlined, so you would not feel as restricted.
Material: 81% nylon, 19% spandex
Size Range: 32-38; A-DDD
Price: 48USD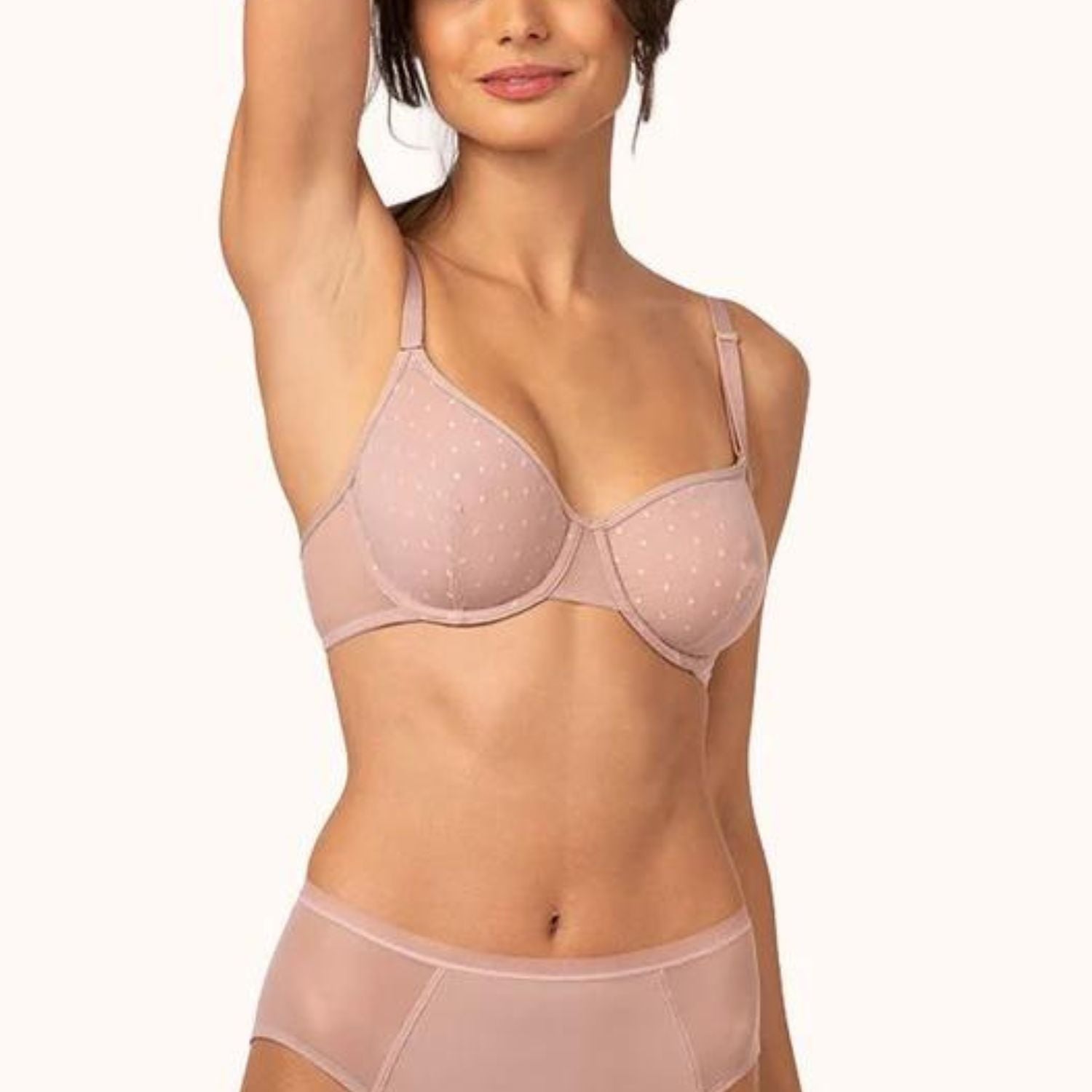 Give your essential daywear collection new life with this wireless mesh bra. These mesh bras are the perfect cross between a bralette's comfort and a bra's support. Full coverage, adjustable shoulder straps for security and support, cotton wireless but mesh! Breathable and feeling free.
Material: 87% Polyamide, 13% Elastane
Size Range: 30-40; C-G
Price: 63 USD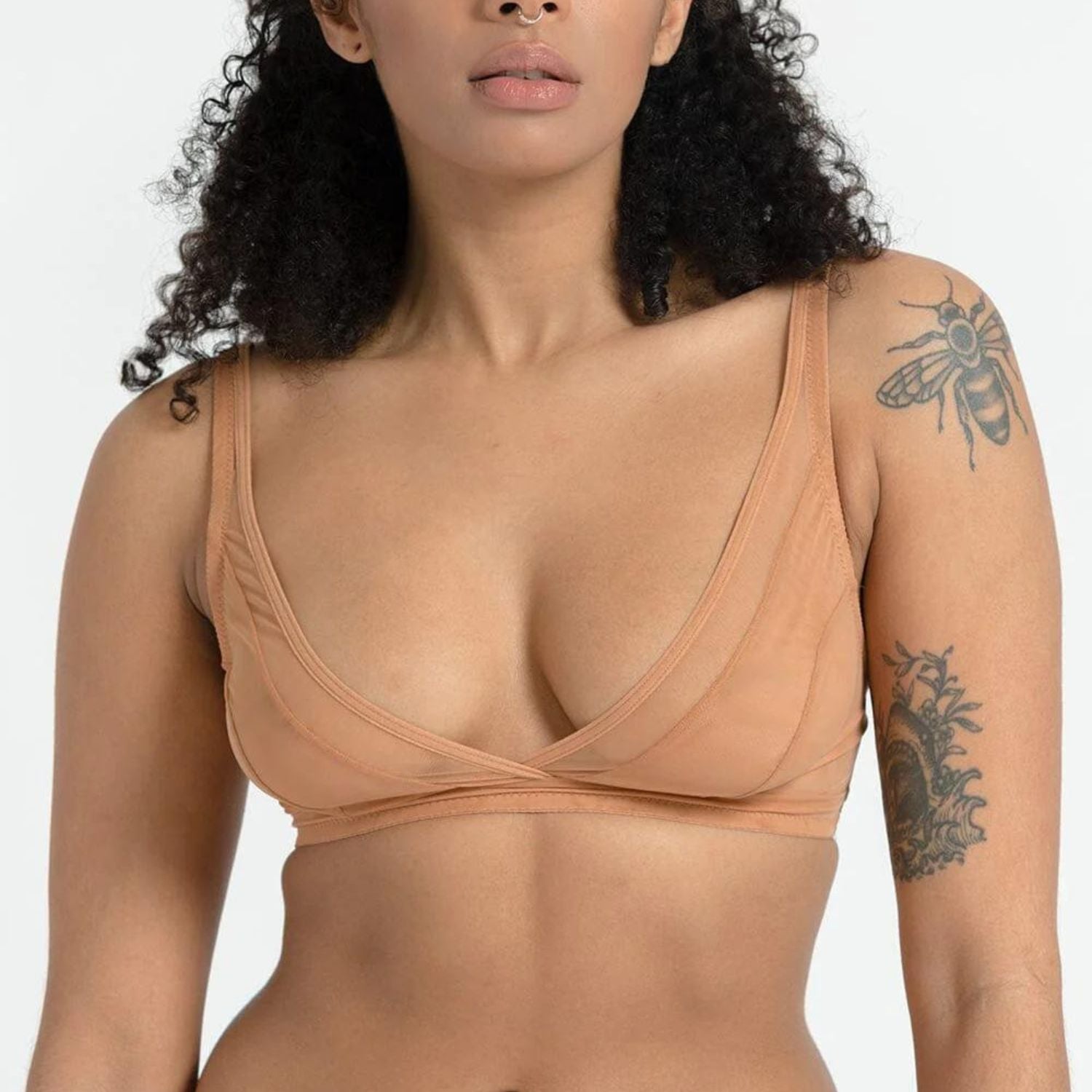 Can I Wear a Sheer Mesh Bra Under Any Outfits?
Yes, sheer mesh bras can be worn under most outfits, but think about the outfits you plan to wear the bra with and choose a style that complements them. Consider the color and pattern of the bra. Sheer mesh bras come in various colors and patterns, so choose one that suits your taste.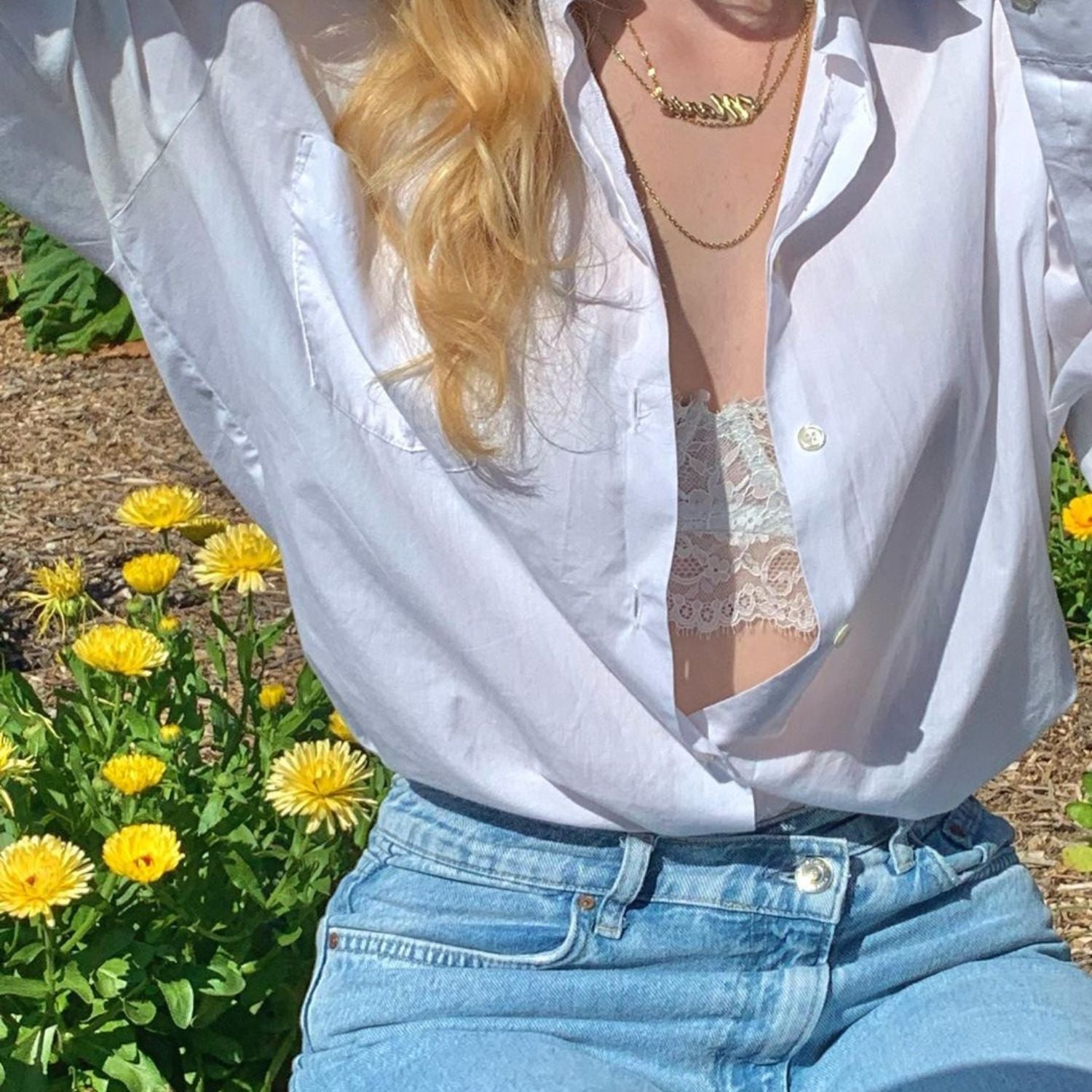 How to Care for Your Sheer Mesh Bra
To ensure your sheer mesh bra lasts as long as possible, it's important to care for it properly. Always follow the care instructions provided by the manufacturer, but hand-washing is generally the best recommended. Avoid using hot water or bleach, and always lay the bra flat to dry to prevent damage to the material.
Conclusion
Sheer mesh bras are a versatile and stylish addition to any lingerie collection. You're sure to find the perfect fit for your style and comfort. Moreover, it works for women of different breast shapes eager for comfort and chic.