Our closet has various clothes that we keep for various occasions. And each of them deserves a particular bra that will support some body parts and make our clothing fit comfortably overall.
The finest bra that complements your body type, attire, and occasion. Every lady should have a variety of options available for any event. There are particular bra types, materials, and patterns that you must have. Yet, you require specific bra types in terms of their styles, materials, and designs. 
Wireless bras exclude wires and rely on the fabric's cut and stitching to give shape and support. This could come in the form of a wider band or an inner sling to support the soft cups of the bra. 
Women with smaller chests typically benefit more from wireless bras because they don't require as much support.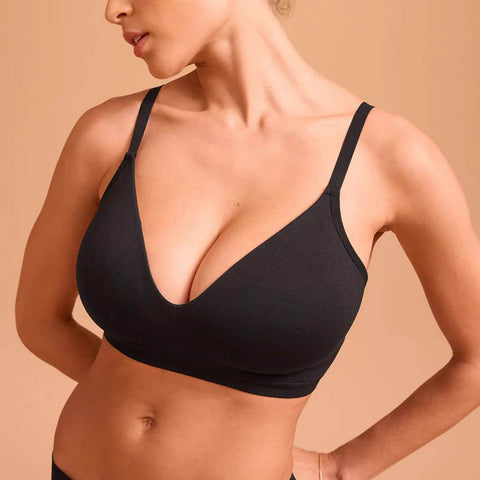 The seamless fit technology in the bra provides all-day support and ultimate comfort without ever digging in.Moreover, it lifts and defines you to improve your shape without the dreaded uni-boob. Both huge cup and tiny band combinations are supported by its design. 
Its adjustable straps make it easy to tighten or loosen as needed. It has a tag-free back closure and is padded. 
▶ Features:
Seamless Fit
Adjustable straps
Padded
Tag-free back closure
The breasts are brought together by a push-up bra, revealing the cleavage. Half- or demi-cup push-up bras are typical to show off the increased cleavage. Padding is present in a push-up bra at a specific angle. Underwired cups are typically seen in push-up bras for increased lift and support. 
A push-up bra is a look that may instantly boost a woman's confidence. They can be worn for special occasions or to add support to less supportive undergarments.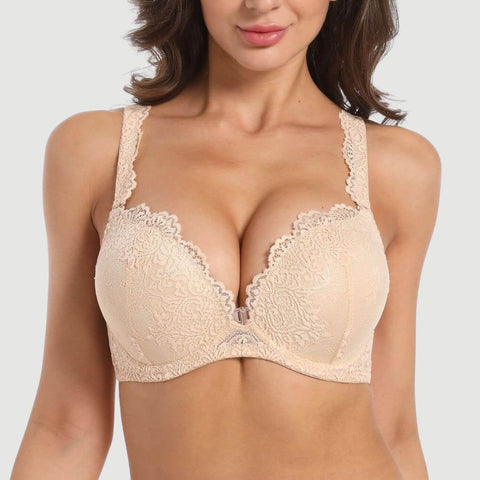 The stretch floral lace embroidery pattern on the front of this bra adds elegance and sexiness. Great cleavage and a naturally rounded form are shaped by supportive soft padding and underwire to avoid sagging. 
It has adjustable convertible shoulder straps that may be worn in two ways—traditionally and crisscross—to change the loose fit, which perfectly complemented various glamorous apparel, such as low-cut t-shirts or dresses with plunging v-necklines. 
▶ Features:
Soft Pads
Adjustable convertible straps
Supportive and Comfortable
Deep V Plunge
Sports bras are specifically made to support the breasts while keeping them in place. They are padded and frequently composed of fabrics that are quick to dry. 
It's one of the most important exercise tools in your toolbox. When engaging in repetitive or high-impact exercise, they need additional support. 
This sports bra's high comfort meets all your needs during exercise. It has a cross-back silhouette and an elastic underband with seamless, also it is made of a technical stretch blend. 
▶ Features:
Scoopneck + racerback
Seamless
Elasticated underband
Strapless bras typically have a broader backband to distribute the weight of your breasts evenly over your body. Others also have silicone dots or seams to ensure they won't come down further.
The innovative cup design makes it possible to give support without straps. 
This bra gives you more lift and relaxes your shoulder without compromising support. While wearing racerback tops and dresses in the summer, this bra will be your go-to choice.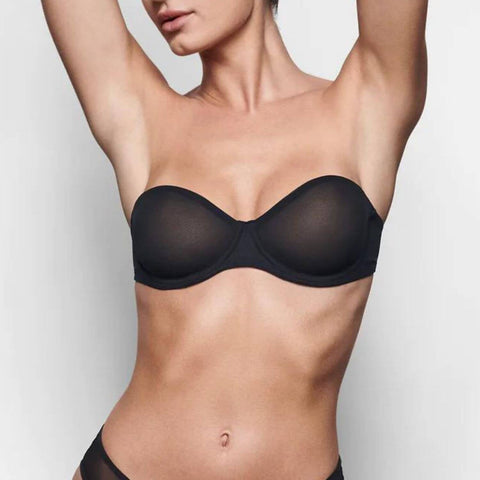 This sheer underwire bra enhances your natural shape without compromising comfort or support, which is a simple fashion solution thanks to the removable and adjustable straps. It has molded cups with no lining. 
▶ Features:
Underwire bra
Removable and convertible straps
Unlined Molded Cups
T-shirt Bra
To provide a smooth line under your clothing, they may be molded or contain hardly noticeable seams.T-shirt bras were created due to the difficulty women frequently experience finding bras that will only show through t-shirts.
You can wear a T-shirt bra underneath fitting T-shirts or any other clothing to have a smooth appearance.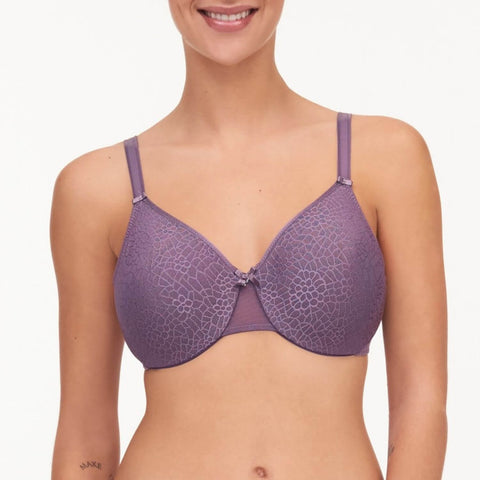 This bra's smooth, soft-stretch cups give it a seamless appearance under any clothing, and its wide, comfortable band offers the most support.
However, a rounded, natural shape is produced by its lightly lined, seamless underwire cups. For the best comfortable fit, the U-shaped back helps to relieve weight from your shoulders. The straps on it are entirely adjustable. 
▶ Features:
Seamless Bra
Maximum Support
U-shaped back
Full Coverage
While rescuing you from the never-ending underwire bra drama, bralettes provide the lift and support you need.Bralettes are designed to fit various breast sizes while providing a natural shape beneath different garment styles. They are made of firmer, more fitting materials.
Consider wearing it as the ideal layering piece below a blazer, popping out from under a crochet sweater or even under a sheer T-shirt.Bralette is a reliable piece of clothing that can easily add to your closet.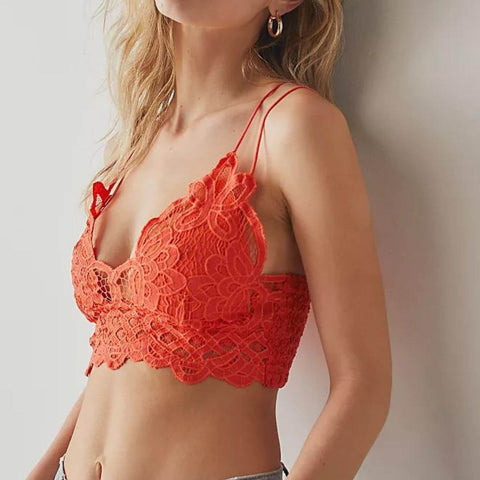 This bralette has a bohemian flair, a stretchy smocked back, and a crochet lace pattern. It has adjustable cross-straps. The nylon and cotton materials make it reasonably comfy. 
▶ Features:
Comfortable fabric
Lace design
Adjustable straps
Demi Bra
Half of the breast is covered with a demi cup or half-coverage bra.
The low-cut cups raise and center the breasts while the wide-set straps support your entire breast weight for a sexier and more attractive fit. 
A demi-cup bra enhances the cleavage gently by elevating the busts slightly and focusing on the center. Because of its low neckline, a demi bra is ideal for wearing underneath low-cut clothing.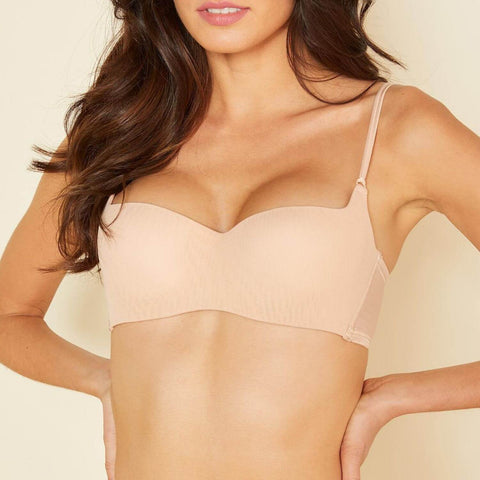 This Soire Confidence Demi Bra lifts, enhances, and displays your cleavage while having padded cups for coverage. For a suitable fit, the straps are adjustable. Hook and eye-back closures are present.
▶ Features:
Good coverage
Adjustable straps
Hook and eye back closure
Backless Bra
Bras without straps stick to your skin and lift and support your breast.These differ from conventional bras in that they attach to the breasts using silicone or adhesive rather than shoulder straps or an underband.The bands and straps on these backless bras remain undetectable.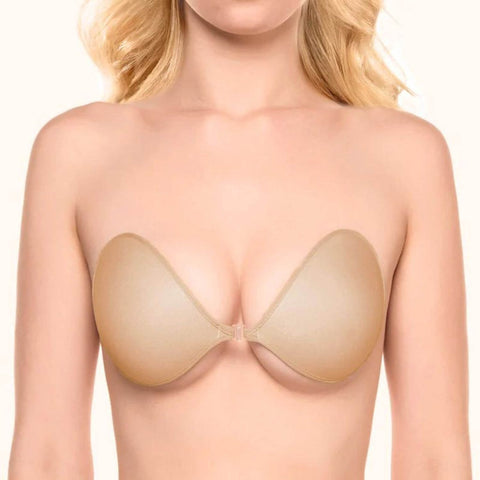 It works best with regular use. You can bearly feel that you are wearing a bra. It is ideal for both work and plays all day, also can manage cleavage by adjusting the position of the cups. It has additional padding to increase breast volume. 
▶ Features:
Extra padding
Comfortable
Supportive
Barely Feel
Plunge Bra
Plunge bras are an excellent alternative to wear beneath plunging necklines since they are low-cut in the middle.Plunge bras are a terrific alternative for Bravissimo girls, especially beneath lower-cut necklines, because they provide less coverage. 
It provides modest coverage and lets you show off an exposing neckline because of the low center front. Hence, deep-neck tops, dresses, gowns, etc., are the ideal dresses to wear with.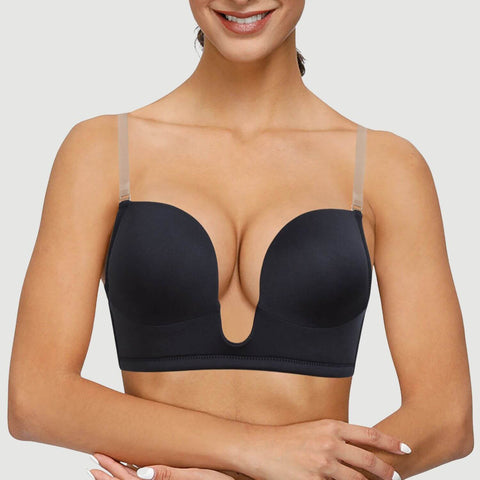 This bra features an intuitive design and a natural form that may be worn with the finest and deepest plunge necklines. Several ways can be worn using convertible and multiway straps. 
You can create clothing in whatever way you like, with more flexibility to match various outfits. This solid-color seamless cup is exceptionally smooth without any lace or sharp edges and won't show through a dress or top.
▶ Features:
Convertible & Multiway straps
Seamless Cup
Intuitive Design
Plunge neckline
Unlined Bra
Unlined bras are often made from one continuous fabric without padding or backing to support the cups. This incredibly light design leads to bras that are frequently transparent and shaped to match the breasts' natural curve. It is the ideal bra for layering tops and heavier knits.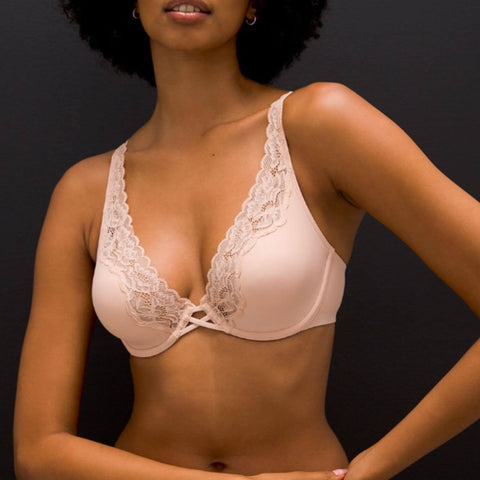 With support from the underwire design, this bra's soft, unlined cups provide lightweight comfort with a natural shape. The delicate lace-lined plunge neckline is bonded to remain flat and smooth underneath garments, giving you a perfect appearance. 
▶ Features:
Unlined
Decorative center front
No slide-straps
Multiway Bra
A multiway bra has removable straps that you can wear in various ways to achieve the desired look and level of support.With a multiway bra, you can wear one, two, or no straps at all, but the possibilities are endless. 
Strapless and multiway bras are ideal for dresses and tops with off-the-shoulder, one-shoulder, or no shoulders.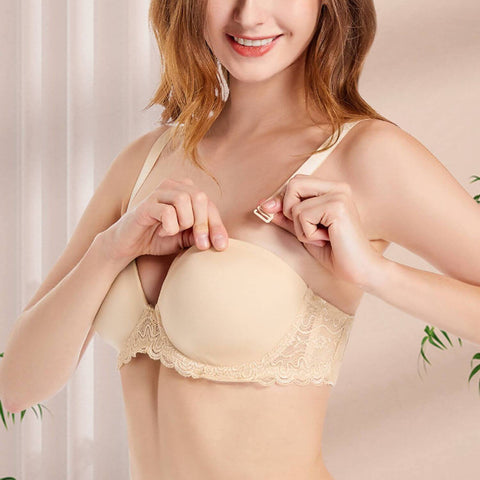 You may match your outfit with this multiway bra with no compromise to comfort. The bra with detachable straps which can be adjusted to match most clothes, making them invisible but supportive, assuring you that your bra will stay in place. 
▶ Features:
Convertible bra
Adjustable straps
Supportive
Stay in Place
Conclusion:
All females know that each bra has a particular purpose, so you should choose one based on that feature. 
For example, you must avoid wearing your everyday bra to the gym. Similarly, wearing a lace bra over a body-hugging dress would be inappropriate. So always select your bra style based on the clothing and the situation.